I always loved the Muppets, so I decided that for 2014 I would make our family the Muppets. I picked the most recognized characters, Miss Piggy, Kermit the frog, Fozzie Bear, Gonzo the great and one of his chickens, and of course, Animal.
I am not a professional, I don't even know how to read patterns, I just have a great imagination and things always work out, some a lot better than others.
Due to the fact I hand sew all the costume (I don't use a sewing machine), some parts of the costumes I hot glued. I began buying the materials I would be needing starting in Nov 2013. I bought fabric when I had 40%-50% coupons for Joann's fabrics and found some items such as Animals collar, Piggy's jewelry at a resale shop and her wig at Halloween Express, all gloves from a dollar store, foam balls from a resale shop. I used colored mesh on all opening of faces for each of the characters.
MISS PIGGY – I found the dress, jewelry at a resale shop and made alterations to fit. I bought the pig mask, fur and gloves on line and make up to enhance eyes. I handmade the pig ears out of pink material and foam, and hot glue them to a headband.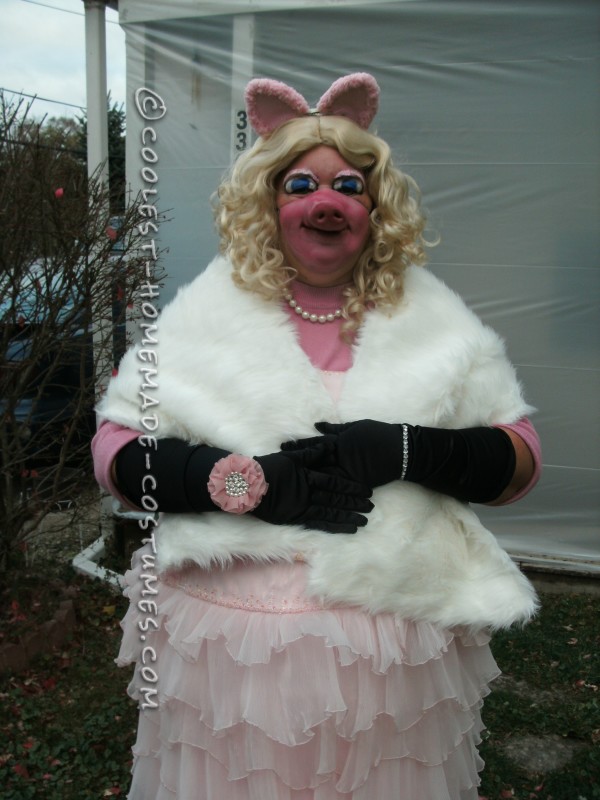 KERMIT THE FROG – I bought all fabric and foam at Joann's and some was from their reminents area. I used 1/2 inch foam to form the head and feet, made eyes from hard foam ball I cut in half with fabric on them. I hot glued mostly everything except on the feet, I sewed elastic and attached snaps to help keep feet steady on the shoes.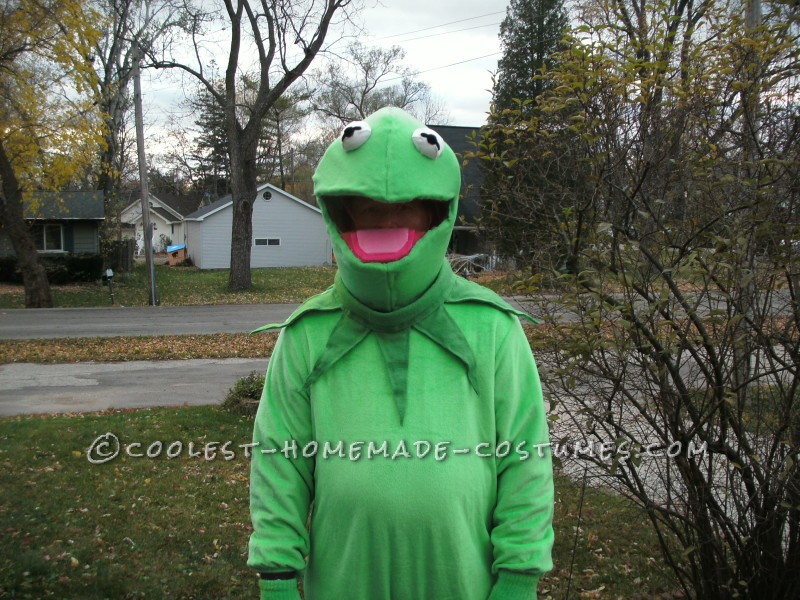 FOZZIE BEAR – I bought all fabric and foam and reminants. For this whole costume, I had a heavier fleece material and handmade the bow-tie for Fozzie. I used 1/2 inch foam to form the head, made eyes and nose from hard foam balls I cut in half with fabric on them. I took a pair of old slip on shoes and hot glued fabric over them for the feet. I bought his hat at dollartree.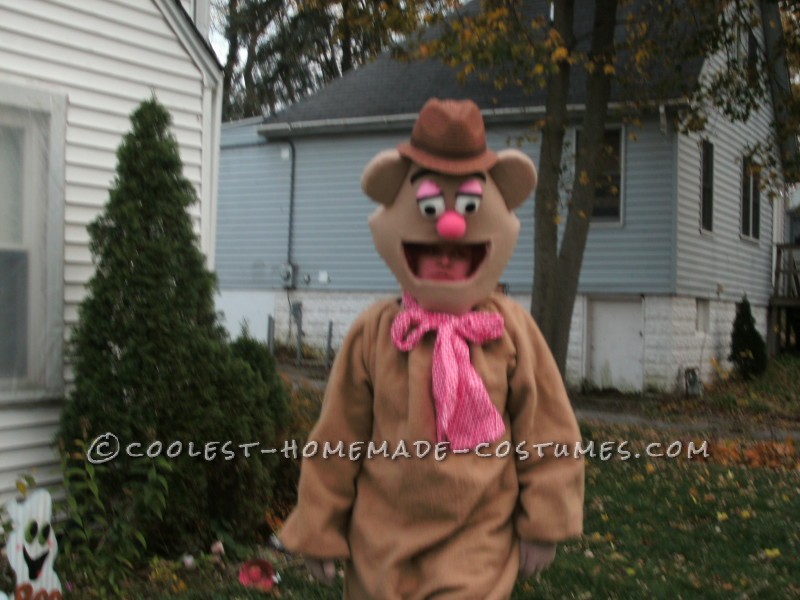 GONZO the great – I bought Blue furry fabric and foam & reminants. I used 1/2 inch foam to form the head and made eyes from hard foam ball cut in half with fabric on them. For the nose and area surrounding his mouth, I cut and hot glued foam and added fabric over it to form these features. I bought the vest on clearance at a store, had shirt, tie and pants. Blue gloves for hands and bought a blue boa to cut and put blue pipe cleaners in it to make feathery hair stand up on head.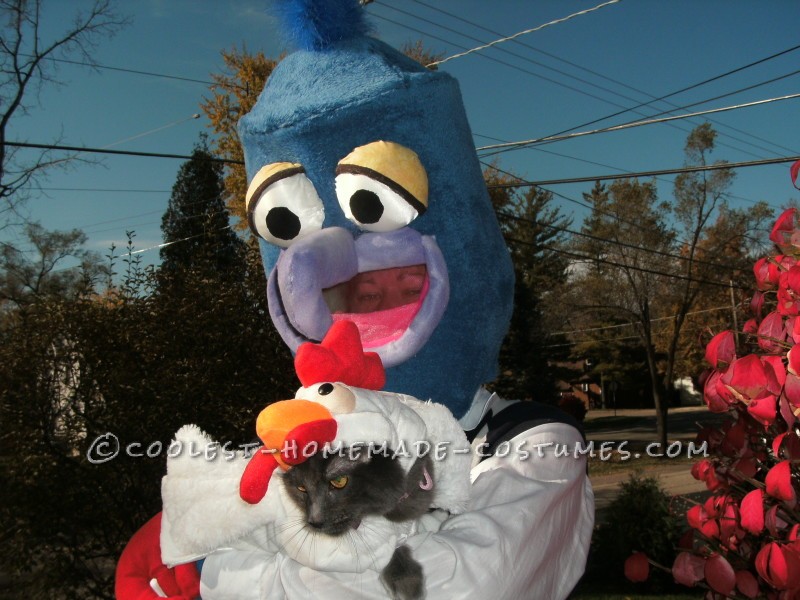 CHICKEN for Gonzo – I bought this pet costume on line and sized it down for the cat to wear.
ANIMAL – This was the most expensive and most time consuming one. I bought all the orange fleece fabric, foam, feather material and remnants from Joann's. I used 1/2 inch foam to form the head, legs and feet, made eyes and nose from hard foam balls cut about 3/4s with fabric on them. I used foam with fabric to form lip on mouth and used thin black feathers on rope for eyebrows and to make the feathery furriness on face I bought two 2/3 red peacock feathers on rope (warning: $25 a yard) and three thick red boas on rope and a yard of thin red feather on rope. I used the thin red around the mouth and seam attaching top of the head, I them lined the thick red boa in rows about two inches apart as fillers first and then used the red peacock feathers between to make it flow like the character (best to do this when head is flat). I bought clear acrylic jewels for teeth-sandpapered and then spray painted them white, used black mesh to put inside mouth and pink mesh for tongue. All of this was hot glued on and together. I bought gold shiny fabric and black and gold trim to sew animals vest. I got an orange turtleneck for his upper body and brown sweatpants which I cut ragged from a resale shop. I used foam to make feet and attached fabric in them and to them to make legs. I sewed thin elastic to top of legs to keep them on and sewed elastic straps on the bottoms to keep feet attached to shoes with a snap. I sewed an additional orange fleece fabric for the upper body and arms for this costume to make it much warmer because it was due to be around 38 degrees for Halloween.
There are a couple of reasons I make these costumes:
1. I love Halloween.
2. Our family Trick or Treats for the local Food Pantry, instead of getting candy, we collect food and non perishable items. We have been doing this for over 16 years and since the people we collect from know I hand-make the outfits, it's my additional way of saying thank you.
3. It keeps our family doing something together and we enjoy what we do.
4. I think these are the best costumes I have made so far.
The people in our photo's are:
Miss Piggy….Myself
Kermit………..My Husband
Fozzie………..My Daughter.. 25yrs
Gonzo………..My Daughter…30 yrs
Animal……….My Nephew….10 yrs.
Chicken………our cat
I would love to win because all the years I've made costumes, I've never entered any contests.