This year my daughter gave me a big challenge. 'Dad, I want a toothless Costume. And I want wings that open and close and fire on the back.' I was dumfounded. How was I supposed to do this? Well, very carefully. Here's how we did it. Thanks for voting for us!
We started off with by making the head out of foam which was cut with a band saw and shaped with scissors. After we achieved the basic shape, we hot glued extra pieces of foam to create the eyebrows, crown and ears. We then covered it with black spandex and painted the spandex with acrylics to give it texture.
The eyes were made by cutting out pieces of plastid water bottles and painting them from the inside to keep the shine going. My daughter could see through the eyes and the mouth was articulated so it would open and close with her jaw.
The body was a basic black fleece and was sewn by hand. We added black spandex to the forearms and legs and then painted them with acrylic for texture. We inserted shaped foam forearms and the legs were made with hollow pieces of foam that would fit around a boot. The belly scales were painted on with dark grey acrylic paint an light lines that went from the chest, down to the tail.
For claws we first cut out the shape of them, then dipped them in dark grey acrylic paint, and highlighted them with light grey and then hot glued them on to the tips of the hands and feet. The hands have holes in them and my daughter wore black gloves to hide her skin.
The wings were based on an instructables articulated wings instructable with additions to them. The wings expand and contract with a bicycle brake handle and are covered with spandex that is painted with acrylic for texture.
The tail is made up of several pieces of foam inserted into a fleece shaped tail that was sewn together. Foam fins were added to the tail after they were sculpted with scissors and dipped in black acrylic paint. The tail fin was made up of plastic rods that were inserted into a styrofoam shaped tail and were then covered with red and black spandex. A small How To Train Your Dragon logo was painted on the tail section.
The glows were accomplished by using blue LED's with wired along a strip and were inserted into white tail fins made of foam. They glowed in the dark and emulated Toothless's firey glow coming up off the spines. A switch inserted into the head allowed my daughter to turn the lights on or off.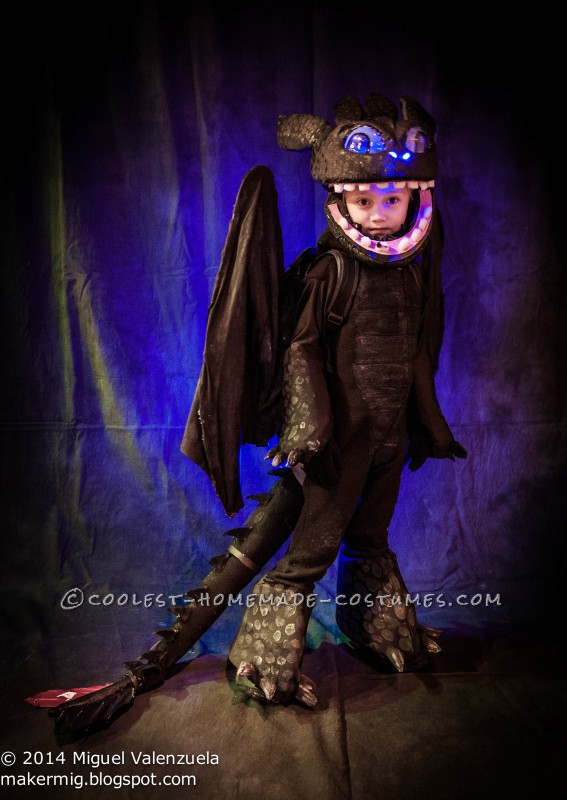 Toothless with mask open.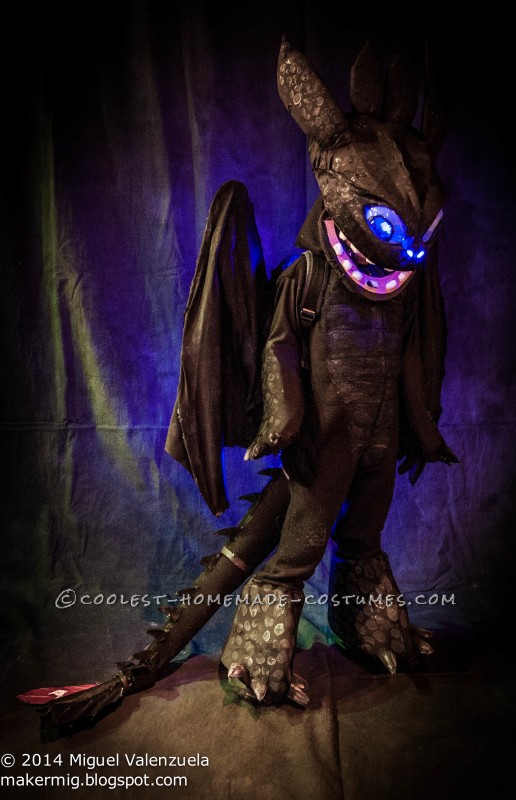 Toothless with mask closed.
Shaping the Head
The head was made with foam and shaped with a bandsaw and scissors.
It was then covered with spandex using hot glue and the ears were glued on and then also covered with spandex.
Acrylic paint was added for texture.
Lights were mounted inside to create the glow and eyes were cut out of bottles and painted from the inside and hot glued on.  Teeth are made out of foam attached with hot glue onto a colored piece of cardboard.
The head freaked out my wifes grandparents as well as the neighbor kids.

Foam Shaped Head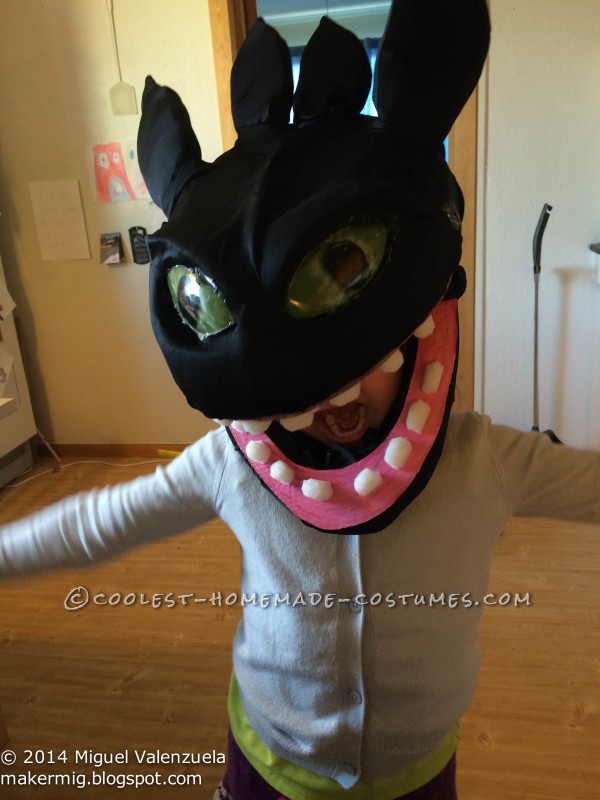 Articulated Dragon Mouth
The Tail
The shell of the tail was made with black fleece and stuffed with foam.  Fins were made of foam and painted black.
Tail fin was made with plastic sticks hot glued into a styrofoam bone and covered with black and red spandex.  A skull was painted onto the red fin with acrylic paint.  Straps of fake leather were glued onto the tail as in the movie.
Blue LED's were soldered into a row and added to the back.
This took about 4 hours to make.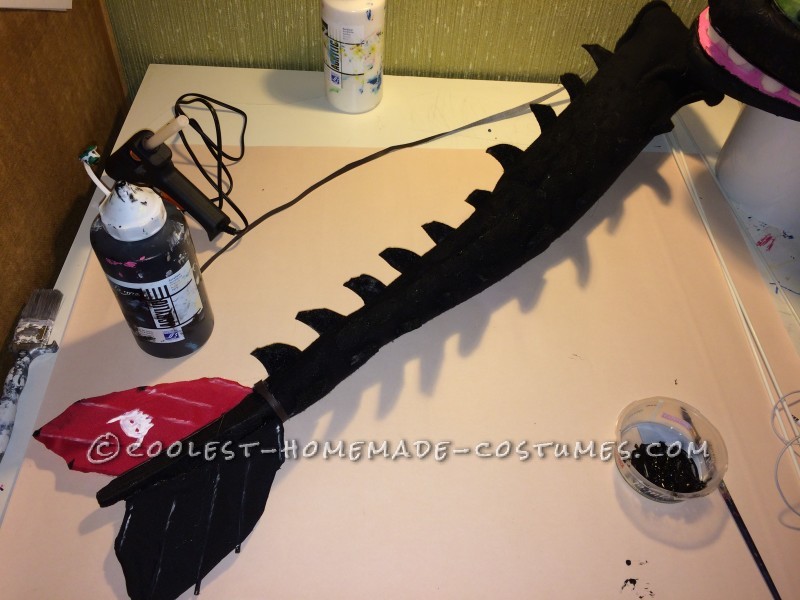 Tail with painted fins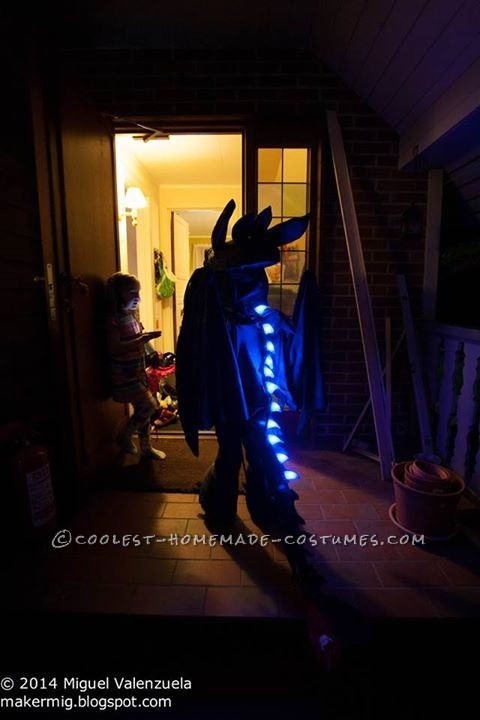 LED's on back.
The Body
The body was made up of different parts covered in spandex and painted for texture.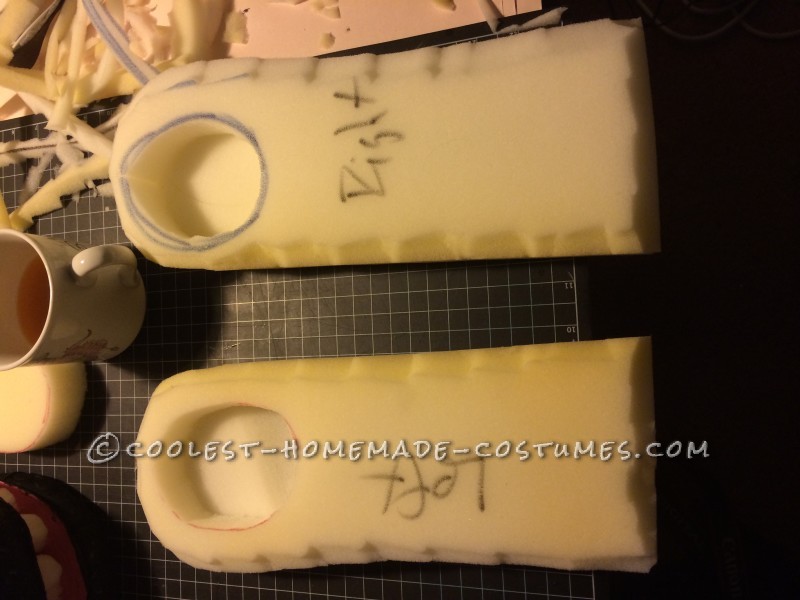 Foam wrists with holes for hands.
The Wings
The wings were made out of plywood based on an instructables lesson for articulated wings.
Backpack straps were added for attachment and they were covered in spandex painted with acrylic paint.
I wanted to articulate them with a linear actuator and battery but we had to use the hand brake instead.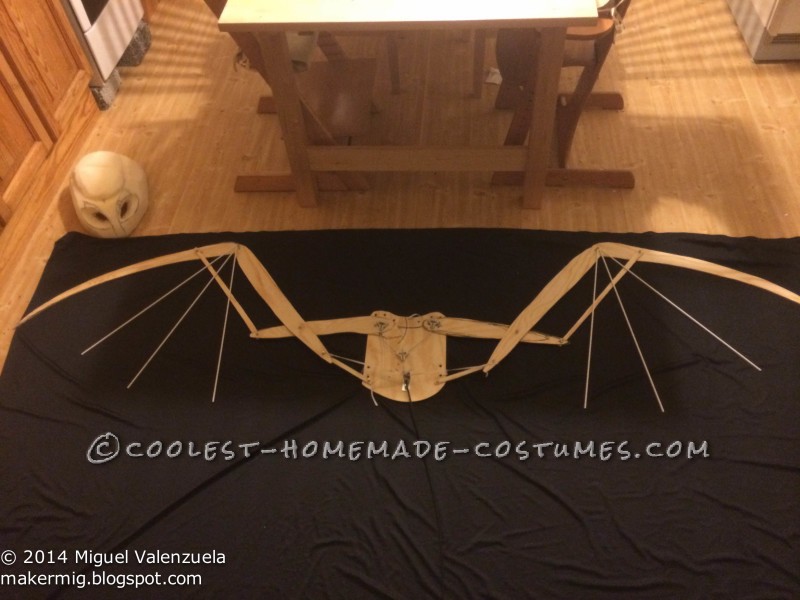 Wing Skeleton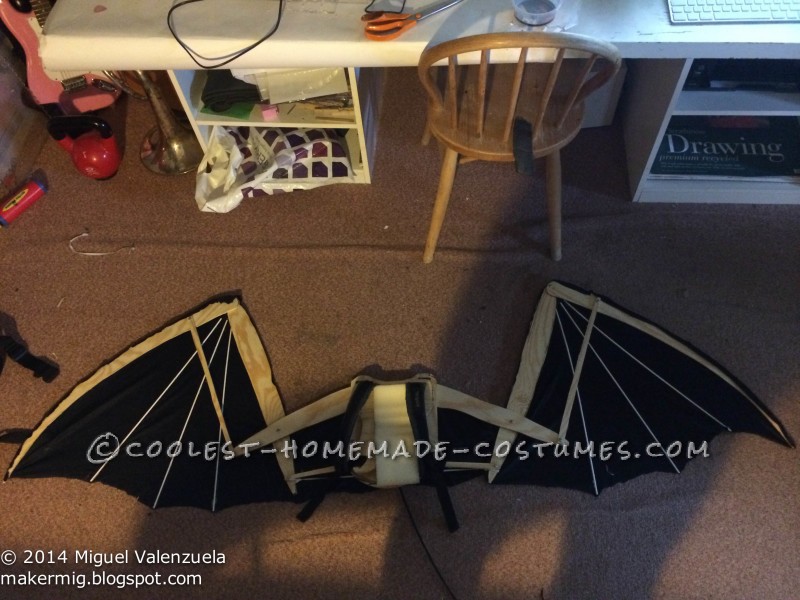 Wings partially Covered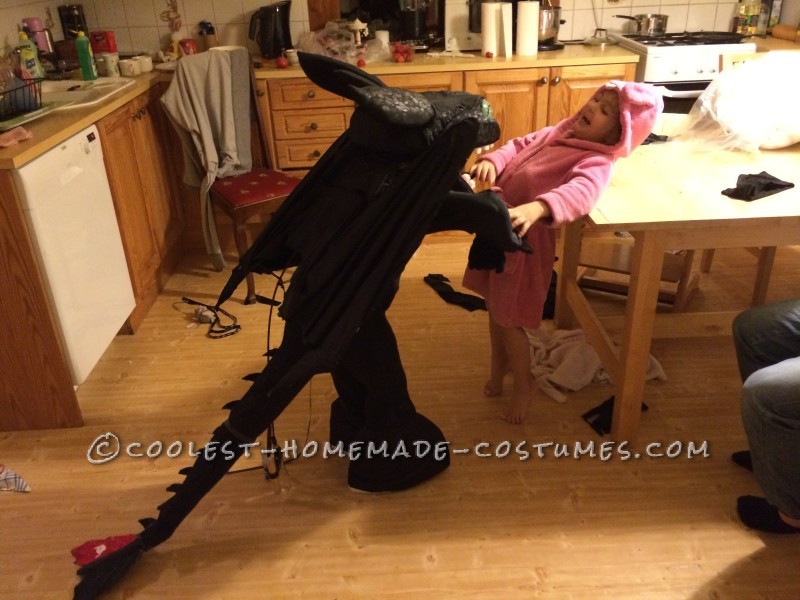 A dragon scaring the little girl.