It was that time of year again, Halloween. My boyfriend Chris (19) just wanted to  pass out candy and not dress up. I, Selena (16) did not think that was a great idea. I realized how much camo we have, but yet we have never gone hunting.  So I gave it a thought for a couple of days and I told him, why don't I be a deer and you be the hunter?? He laughed and said yeah.
After that I looked it up online, I got super excited about it. It was a wonderful idea, but there was so much to do, well for the deer part. Chris already had the full on beard, he had the camo jacket. He was going to bring his bebe gun but he forgot it at home. It was fine though, you can still tell he was a hunter. He did not need much to do. I on the other hand, I had to buy furry stuff, make up, antlers. I honestly went through hell to find a furry vest and antlers. But int the end, it was the best!! Everyone's reactions we're priceless!! They told us it was a great idea and they have never seen it before. On Facebook, we got a ton of "likes" on our photos. I wouldn't have changed a thing!
Deer make up
I watched 1 YouTube video about deer make up, it was pretty darn good. I did not try doing my make up to see how it would come out, I just did it the day of Halloween to see how much confidence I had in myself.
I started off with a white out line on around my eyes, then colored the rest in with white make up
I did my mascara and eye liner
afters my eyes we're all done, I put my foundation on my face
my foundation made my skin look darker
I grabbed my brown make up I bought at Party City and put it on right on my cheek bone and made it blend but it was dark, it was perfect!
I then drew on my black nose
after all that, I touched some things up and I finally put white dots on my cheek bone to make it look more like a deer!
I honestly believe, my make up was the best part of the costume, for the first time doing my make up like that. It came out amazing! I got a ton of comments about my make up and how good it looked. My make up almost took a good 2 hours. It was completely worth it though!!
Deer hair
Yes I understand, deer hair sounds silly. But I wanted it to be great costume. I know I couldn't just have my hair just straight and boring. I wanted it to have a little wave to it, a hair style that will stand out!
first, I had to wash my hair and get it all completely wet
I rapped it up, and let it get damp
then after a good 15 minutes I took it down and put a ton of mousse in my hair
but you must have your hair faced down to scrunch it all together
after that you need to spray it with some hair spray
then rap it up in a tight bun, let it sit and dry through the night
in the morning you must take out the bun and add more mousse and hair spray to it
last, style it to how you want it to look!
I just kept my hair down and wavy, it looked very nice with the antlers on! I loved it!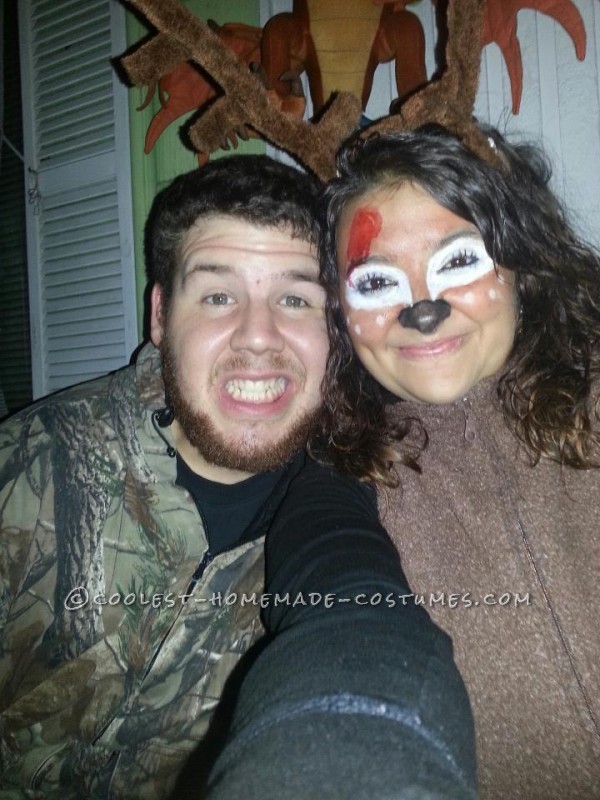 Deer outfit
My deer outfit was a little bit complicated to get all together but in the end it was great!!
I went to two Goodwill's and Fred Meyer to find my vest and antlers
I had no luck at Fred Meyer and at one Goodwill I found my vest and antlers
I had brown yoga pants at home that I wore
I wore a black light hoodie under my brown vest
there was these tan boots I've been having and I wore those as well
All together it was a pretty darn good, but honestly it could have been better but I didn't have a ton of money to be spending. Also, my antlers broke the day of Halloween. But I grabbed some string and tied them back together. The costume kept me warm through the cold night so that's a plus. Over all our costume idea was great, it was a good time!!