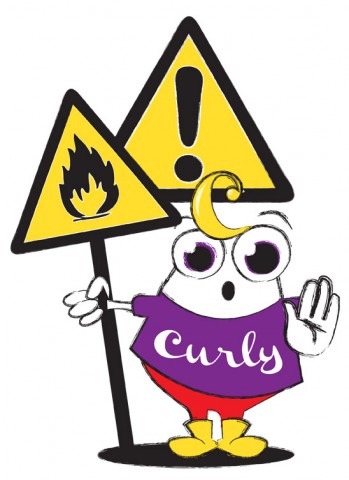 This Costume Caught Fire!
Note from Elad: Making your own costumes is always a big challenge and lots of fun. We're always hoping that the ideas on our site will inspire you, but you must be careful!
I'd like to thank Tony H. from Millom, England for taking the time to send in this letter and photos. I've placed it in a prominent place on our site to remind everyone to use your best judgment and take all the necessary precautions when setting out to create your own homemade costumes.
The photos below may be a bit extreme for some, but I've decided to post them here anyway as a reminder to us all of what could happen if you're not careful.
Safe costume making!
Elad
Here's Tony's letter:
I would like to make people aware of the risks of these homemade costumes which are HIGHLY FLAMABLE!
We got the idea for a sheep costume made from entirely cotton wool and went to work on a white hoody and trousers. After around 10 bags of cotton wool and several tubes of fabric glue the masterpiece above was created.
All was going well and the costume well received until I went to light a cigarette and accidentally set fire to the hood that was pulled up around my face.
The fire spread and I was lucky enough to be rescued by 2 friends who were also outside otherwise I would have not been able to free myself from the flaming clothes.
(I would like to thank the quick response of Liam and Chummer, a.k.a. The Joker and God, for their quick response in pulling off my burning clothes and also the calm response of others at the party who cooled and dressed my burns easing the pain and no doubt limiting the damage to my skin. I owe you all a pint!)
I was lucky enough to only burn my inner thighs, hands and chin – 2 degree burns to 6% of my body. After a week in hospital and small infection in my leg I am now back home and on the road to recovery.
Please learn from my mistake and as I'm sure someone else will not be as lucky as me to escape with relatively minor wounds. Fancy dress is fun but take extra precautions such as:
Stay away from naked flames (completely)
Use inflammable materials where possible
Have a fire retardant base layer on.
Cut the sides and then velcro up the costume so it can be easily ripped off in the event of a fire.
I took none of the above precautions and have paid the consequences – don't think that this couldn't happen to you, be safe not sorry!