Many of the thousands of homemade costumes submitted to the 2012 Halloween costume contest deserve recognition and unfortunately we can't mention each and every one. We have, though, created this "Editor's Picks" section to mention just a few of those deserving honorable mention. Also, our "Viral Award" makes it possible for any costume to win a prize in future Halloween costume contests!
Throughout the past month (Nov. 2012), our unrelenting panel of judges have scoured every word, every photo, every video of every costume submitted to this year's contest. We have handpicked a handful of homemade costume contest winners and awarded a total of $2000 in prizes.
So we'll start off with this years Viral Award and work our way down this page of winners until we reach the $500 Grand Prize winner…
$50 Homemade Costume Contest Prizes
$50 Viral Award: Skittles by Dominique

The only costume contest winner selected based on popularity is this Skittles costume submitted by Dominique to our 2011 contest. It went viral on Pinterest in September 2012. By the end of Halloween this Skittles costume had been viewed more than 400,000 times. It was by far the most viewed costume on our site during the 2012 Halloween season and, thus, awarded this special popularity award.
$50 "To Infinity… and Beyond" Award: Buzz Lightyear by Karen and Sean

Conner (aka, Buzz) not only has the most super-cool wheelchair costume, he's also got the most super-cool Mom and Dad who "try to take moments in his life and make them as special as we can." Thanks Karen and Sean for showing us how to take parental love "To Infinity… and Beyond".
$50 Original Twist Award: Shadows by Tristen

You could argue that this Shadows costume isn't entirely homemade. And your right. Morph suits can be purchased. But what's so special is the original twist. Twisten… I mean Tristen took something that was ready-made, added a few accessories, and "morphed" it into a costume that's so easy yet so special and abstract.
$50 Super-Detail Award: Witchdoctor by Andy

Here's a story of Andy, a 24-year-old Louisiana swamp dweller, who dreamt of becoming a tribal Witch Doctor. No detail in this costume went overlooked – every nick in the mask is hand-carved, dangling potions of mana and health and even a self-named "Staff of Joytunlious" make this costume so realistic that even real tribal witch doctors will want to wear it.
$50 Emmy Award: Emmy Statue by Julie

Julie's husband has a few Emmy awards "lying around" the house. So, she just decided to become one too. Covered in glistening gold paint, with cardboard wings that represent the muse of art and a clever hula-hoop globe that depicts the electron of science – this Emmy deserves our costume contest Emmy.
$50 Over-the-Top Award: Gizmo/Gremlin by Sean
This transforming costume is, in fact, two costumes in one. You have to see the video to completely grasp how over-the-top it is. It's extremely original, very detailed and through the great process writeup you can see how much time and energy was invested into this special creation by Sean.
$50 In Vogue Award: Madame Butterfly by Katherine

Inspired by fashion designer Luly Yang, Katherine set out on a journey from Valley Village to China (online where she bought cheap fabric) to re-create a combination of two of Yang's creations: Butterfly dress and Wedding Gown Kimono. It's not your run-of-the-mill cardboard box "homemade" costume, but it is all handmade and extravagantly spectacular with 120 butterflies all wired to the costume by hand.
$50 Pet Costume Award: "Pup-Cakes" by Lisa

Lisa's pugs are so sweet, she turned them into "Pupcakes", or, you could even say "Pugcakes". Here's her recipe: In a lightweight lampshade bowl, mix felt, fabric glue, Styrofoam, and top it off with colorful foam sheet sprinkles. Do not bake. Instead, take out for a stroll in the park.
$100 Homemade Costume Contest Prizes
$100 Coolest Animal Award: Porcupine by Melissa

Melissa's prickly porcupine costume and its 500 (!!) handmade quills caught our judges' eye (fortunately, it didn't poke any out). It's a true attention grabber and one of the coolest animal costumes we've seen. Melissa was so excited she won a prize in our costume contest, and even more so because she beat her husband's very cool Dinosaur and Wall-E. Her "Ha, ha!" summed it up best.
$100 Recycled Award: Robot by Llano

Over the years, we've run into quite a few awesome cardboard Robots. They're a classic. Llano took his robot one step and a few groovy moves further, constructing 15 separate cardboard pieces (all from one box) to create an articulated robot that can move and dance like no other. Just watch Llano's superb process video where he shows some slick moves both as a dancer and as a talented costume creator.
$100 Most Artistic Award: Medusa by Hannah

Veiled behind the snakes and scales of this artistic costume is one very talented designer (and a cut-up soccer ball!) Hannah's Art-Deco Medusa is as glamorous as it is eerie. The process write-up reveals her special care for every detail and the photography is exquisite. Don't stare at the pictures for too long, or you may turn into stone like the next costume…
$100 Realistic Award: Cemetery Angel by Tiffany
Tiffany was challenged by her daughter to transform her into a cemetery angel. Quite an interesting choice for an 8-year-old. But Halloween is a time when dreams come to life and mothers turn their children into anything they wish to be. Tiffany set out with hammer and chisel to carve through a block of stone and create this stunning weeping angel.
$100 Youngest Creator Award: Girl in a Tree by Elizabeth

We've got quite a big section of illusion costumes, but here's one of the most original Halloween costume contest entries, an illusion contrived and created by none other than a 10-year-old girl named Elizabeth. What sparked her idea? Her love for monkeys and climbing trees! She sketched it out, built it on her own from household items and spent a whopping $10 on the final touches.
$100 Group Costume Award: Russian Dolls by Sarah

Sarah and her girlfriends drove one day by a billboard with a Matryoshka/Russian Nesting doll, and next thing you know, they've got one of the most original group costume ideas. Being of different heights and sizes, the concept was a perfect fit. The costume also symbolized the true friendship of five girls "who are so close, we've grown to be one…"
$100 Creepy Award: Slenderman by Chance and Jessica

Jessica's 15-year-old son Chance wanted to be Slenderman, a creepy mythical creature turned video game persona. They joined forces to create this original 9 ½' costume. It's not the kind of creature you run into every day, but it'll sure have you tripping over yourself as you run away from it. The creepy video is like a homemade horror film.
Our judges chose two (from the six) cool costumes submitted by Candice to this year's costume contest. According to Candice, her Diary of a Wimpy Kid costume is really simple to create and her detailed write-up, photos and excellent process video help make it an even easier task.The Golfer in a Golf Cart stroller costume is a perfect baby costume. Not only is it a comfortable costume for the baby, it's also a great way to incorporate the stroller as a costume accessory. Again, Candice's instructions are thorough and her creative additions, like golf clubs, canopy, signs and headlights make it into a costume "hole in one…"

Since it's release in 2010, Tim Burton's Alice in Wonderland has been an inspiration for many Mad Hatters and Red Queens. Kirby came up with the idea, her fiancé agreed to do a couple's costume for the first time ever, and her sewing extraordinaire mom took on the challenge. After two weeks of sewing, Kirby's "poor mother's sore fingers" created a masterpiece Burton himself would no doubt be impressed by. Thanks goodness for Moms!
$100 Simplicity Award: "Guess Who?" Couple by Ali

Guess What? Ali's last-minute "Guess Who?" costume is one of the most simple and cheap costumes. It's easy to wear, fun to act out and perfect for those of us who procrastinate until the very last moment. You can easily turn this into a full-fledged group costume.

As you'll soon see, Jason's Porta-Potty costume is more than just an illusion. It's a story of a Porta Potty "pooper" being hauled away by a construction working "scooper". Its humoristic twist, superb craftsmanship and detailed write-up make this costume, to quote Jason, "#1 in the #2 business…"
$500 Halloween Costume Contest Grand Prize Winner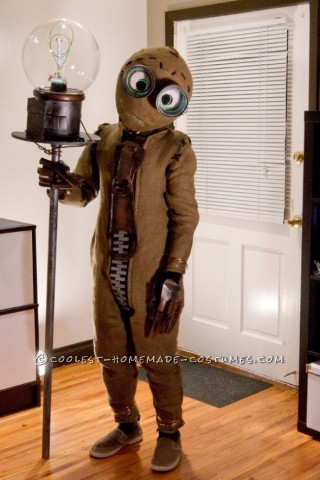 Meet Benjoseph from Los Angeles, California. His supreme craftsmanship and love of costume-making glows through every seam of the rag doll he created. Inspired by Tim Burton's film "9", Benjoseph gets a perfect 10 from our judges. Both his re-creation of #9 and his meticulous documentation, photos and process videos are an inspiration.
We'll wrap up this year's Halloween costume contest announcement with a few words from Benjoseph that give a peek at the person behind the costume and his unrelenting passion for creativity:

"As long as I could remember, I've always had a knack for building and creating random things of arts and crafts. Growing-up in your typical Asian household, where your parents expect you to become a doctor or lawyer, I went into the direction of web advertising which was reluctantly accepted by my parents. This was my compromise for still being somewhat creative on the web and have an acceptable income approved by my parents.
"So with that in mind, my only creative outlet is through personal projects, such as projects around the house, holiday decorations, and of course, Halloween costumes.
"I've always been a quiet and bashful guy and with all the attention I get from my costumes, I actually feel at ease. It's as if I'm hidden behind the mask of the costume. It was a fantastic feeling. Being able to experience the reactions of joy and shock across people's faces as they first set eyes onto my many creations was priceless. It's because of this I continued to create a costume every year. I think what makes my costumes stand out is the joy and excitement that's put into the little details of each and every one of my costumes. "
Congratulations to all of our 2012 Halloween costume contest winners. We hope you've enjoyed the ride as much as we have.
Elad, Tamar and the Coolest Gang
P.S. Take a look at the Halloween Home Made Costume Contest Hall of Fame…