Take a look at these homemade Sumo costume ideas submitted to our annual Halloween Costume Contest. You'll also find loads of homemade costume ideas and DIY Halloween costume inspiration.
Costume by Anisha B., Holladay, Utah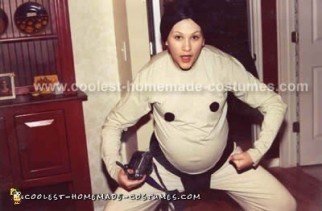 I was 8 months pregnant and came up with a great way to use my big belly! A big Sumo Wrestler was just the costume!
I already had a cream colored shirt so I began searching for something to wear on the bottom. A pair of Pajama pants did the trick. Then I bought a long black wig and twisted it into a high bun to wear.
I bought some felt from the craft store and cut and pinned together a big diaper and I also cut and taped fake nipples on to simulate being naked:) It was a great, fun Sumo costume that got a lot of laughs. Very easy to make. The most expensive part were the Pajama pants.,
Total Spent: $20