Take a look at these homemade Star Wars Halloween costumes submitted to our annual Halloween Costume Contest. You'll also find loads of homemade costume ideas and DIY Halloween costume inspiration.
Costume by Twana K., Vacaville, CA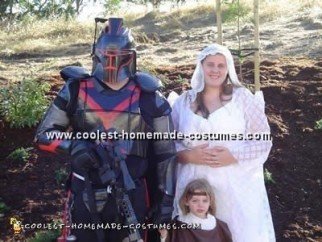 Our family dressed up in Star wars Halloween costumes. The Black and Red Costume is my husband. He is an Empyreal Rebel Bounty Hunter. He used a boba fet helmet and spray painted it with the design he wanted. He used his old football shoulder pads. We used some bondo on some elbow and knee pads and spray painted them after the bondo hardened. Wear a black shirt and black pants and pair it up with a toy gun.
I was Amadala in the wedding scene. All I did was get a cheap and slender white dress and made a lace jacket. For the veil I sewed two dollies together and hot glued beads in circles all over the top.
Our daughter we dressed as Cindle from the Ewok movies. We used a white pair of pants and a white turtle neck. We then used her brown snow boots. We did buy two yards of brown fabric and cut a slit for the head and used a brown belt. We cut off a bit of fabric and tied it around her head.
Total Spent: $200