After a several months of deliberation I decided to be Ironman, ehh… Ironwoman… Ironlady… Lady Ironman?  …ok whatever, you get the idea!  I figured now would be a good time, since the third Ironman movie came out this year.  My version is a mix of the comic with the movie version and just my own version working with what I had.
This has totally been my costume masterpiece!  I've been making costumes for years but don't know how I'll ever beat this one.  Complete with armor and working lights!  People would not stop checking out my awesome costume and tons of random people at the parties and on the street asked me to be in a photo with them.  If anyone stared at me inappropriately I would point my chest light into their eyes!!  hahaha.  The lights worked out great though, they were easy to turn on and off for good photos , though I did realize that the reactor light was kinda pissing off the waiters, so I had to turn them off when at the bar, but everyone else was impressed!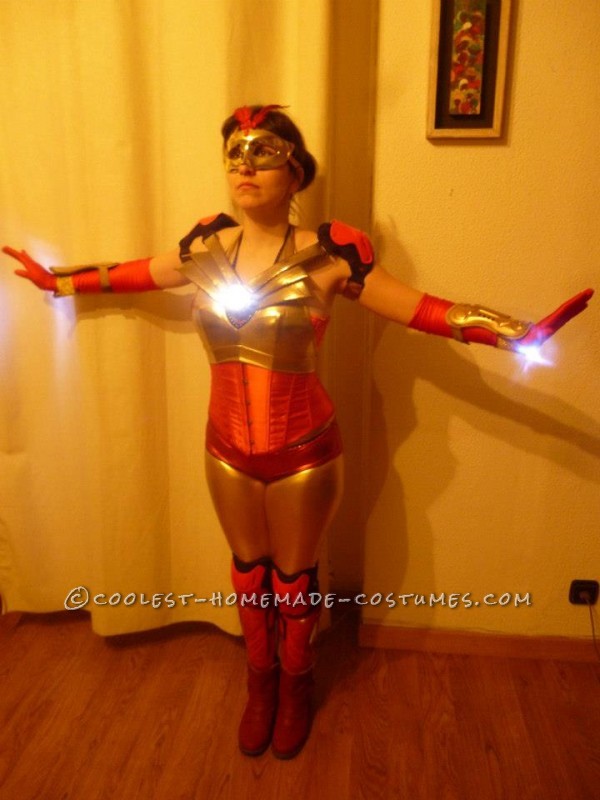 ready for flight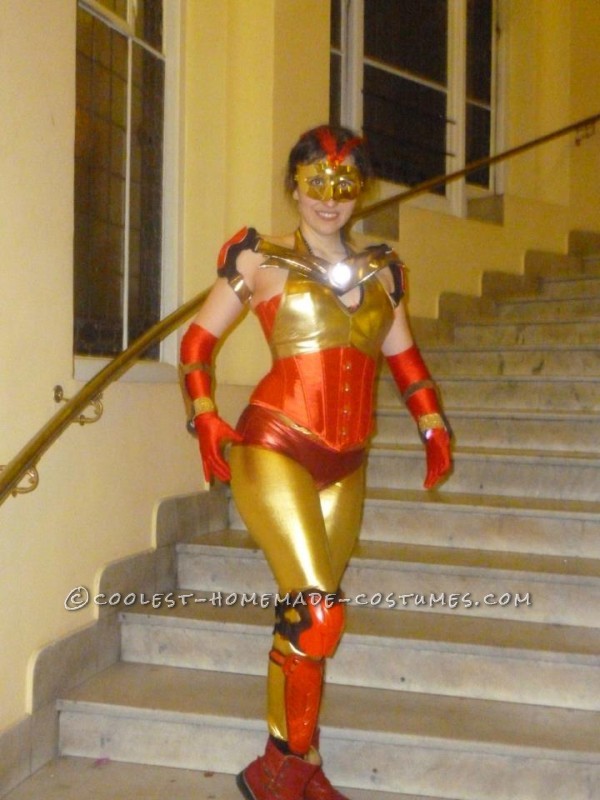 bring it on
Gear and Supplies:
Anyway, I needed to get lots of gold and red parts to avoid sewing if possible.  So I started off by going to a local sexy clothing shop and going crazy.  I bought:
1 pair metallic gold tights
1 pair shiny red hotpants to wear over the tights as typical superhero outerunderwear 1 shiny red corset with gold hooks which was hard as $@€% to put on
1 metallic gold halter top to wear over the top part of the corset
1 pair of long red satin gloves
1 metallic gold carnival mask
I had to go to a different shop to find some nice footwear. One pair ankle high red 'leather' boots with good tread
Now for the 'armor' part, I went to a local sports shop where I picked up:
1 pair adult football (soccer) shin guards
1 pair child football (soccer) shin guards
 1 set of adult rollerblade knee and elbow pads
At the arts and crafts shop I bought:
2 meters (approx.) of gold foam sheet (this is a thin sheet of solid foam with metallic gold fabric glued to it on one surface)
1 glue gun with glue sticks (well not really, I already had one, but you'll need it!)
 gold safety pins or needle and thread
 sticky-back Velcro strip
At the Dollar store I bought:
 1 can of red spray paint
 1 can of metallic gold spray paint
 1 small flat round AA battery-powered light which you can click on and off by pressing the light in the middle, it should have a strong adhesive back and/or magnetic back
 2 cylindrical red AAA battery-powered keychain lights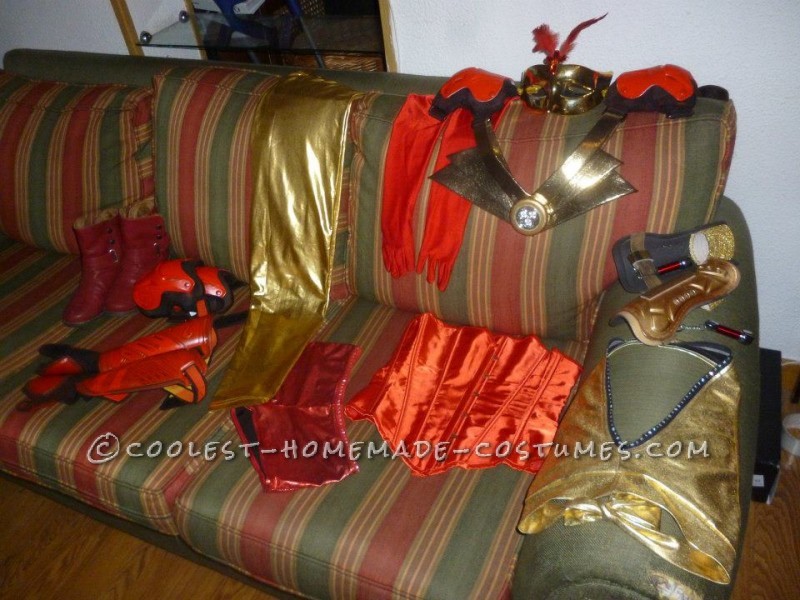 ironwoman running around naked
Making it Happen:
OK, so then I sprayed the big shin-guards, the knee pads, and the elbow pads red.  And the small shin-guards and the round flat light, I sprayed gold  (be sure to cover the center light part, so the spray doesn't cover the actual light).
Now the only really complicated part was making the 'reactor core' in other words putting the chest light in place.  What I did was use the foamy sheet cut it into an 'L' shaped frame corner, about an inch wide.   Because the ends needs to fit thru the hoops of the elbow pads, which will be worn as shoulder armor.  Make 2 or 3 more 'L' shaped pieces to glue underneath the longer one.
Once all pieces are glued on top of each other, glue or stick the light onto the very top.  You will have to measure it for your own body and adjust it yourself.  Once you have measured the right length for you, put Velcro on all the ends so that they can be fastened.   See drawing.
As for the back of this chest piece, take the elbow pad straps and join them either with safety pins or by sewing.  I took the other straps and wrap them under my arms and fastened them like normal.   I used the small shin-guards as arm guards, and put them over my gloves and tucked the key chain lights underneath to use as hand lights.
Wear all other articles of clothing as you normally would and Voila!  You are a smartass genius millionaire!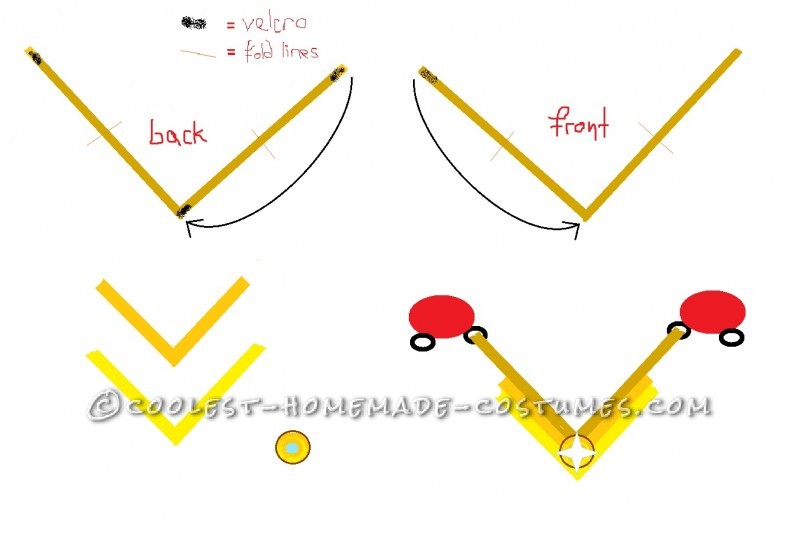 sketches of how to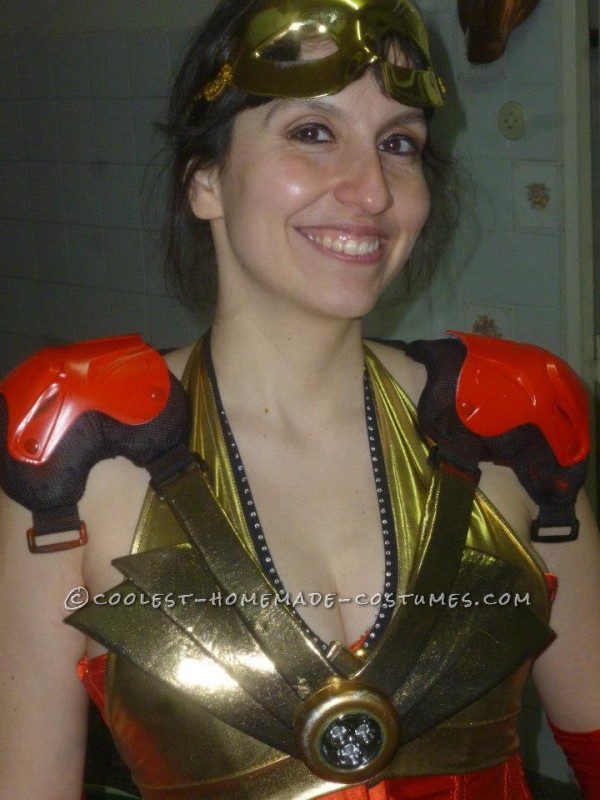 powering down