Take a look at these homemade Scarlet Ohara costume ideas submitted to our annual Halloween Costume Contest. You'll also find loads of homemade costume ideas and DIY Halloween costume inspiration.
Costume by Kim A., Round Rock, TX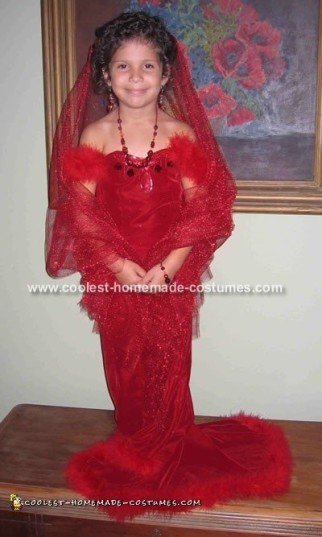 My daughter wanted a Gone with the Wind birthday party! I bought red velvet material, red feather material, red sequins, red beads and some fake jewels as well as red gauze-like material that had some sparkles for the wrap I used a doll's dress as a pattern and measures my daughter to fit.
I sewed the dress like a strapless evening gown. I then attached the feathery material for the off the shoulder sleeves and along the back train of the dress. I sewed sequins with beads randomly over the front of the dress and the large fake jewels along the neckline. It took a while but was pretty easy. I did add a zipper to the back so that it would be easier to get in and out of! My daughter loves it and she wears it all the time!
Total Spent: $30