Take a look at these homemade Queen Amidala costume ideas submitted to our annual Halloween Costume Contest. You'll also find loads of homemade costume ideas and DIY Halloween costume inspiration.
Costume by Barbara K., Woodstock, GA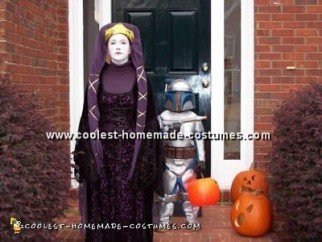 Every year my son and I dress up for Halloween in complimenting costumes. This year he wanted to be Jango Fett from Star Wars. I went as Queen Amidala which completed our Star wars Halloween costumes.
Years ago I found a dress at Goodwill that I thought I could someday use as a renaissance dress. I also had in my closet a turtle neck. Now what I needed was the make-up and head dress.
My husband took an old baseball cap. He attached with safety pins pantyhose with stuffing to get it to stand up. He covered it with scrap material that was on clearance at Wal-Mart. Next he hot glued the felt crown on and wrapped the material with gold ribbon.
We bought the white make-up. It took a while to get it all on and even longer to take off but boy was it fun! We received lots of compliments for our Star war Halloween costumes.
Total Spent: $10