"What ARE you guys?" —- "THE PARTY duhhh"
And then people understood. I wasn't sure what to be this year. I wanted to be something fun, look cute, LOOK fun, be colorful, be original, be something people LIKED. … What does everyone like? A party!
To be "a party" you basically have to look really fun. How I did this was cover myself in every possible party decoration I could think of. We got base layers, a tanktop, hose, tights, shorts, etc. Then go out and buy party decorations!
Streamers, tinsley, beads, pom-poms, gift bows, tissue paper, felt wires, glitter, stickers, flower layes (spelling?), candy jewelry, etc was wrapped and taped around our body. You would think we put it on in totally random form, but that isn't necessary true. We did put some thought on what we were placing where so we could actually look cute. We had extra fun and color makeup, fake eyelashes, maybe some colored hair extensions. Maybe a party hat! …And don't forget — blowhorns!
Coming with looking like one big party, you have to play the part. You have to smile and dance and BLOW that BLOW HORN!
Extra fun costume, cheap to do, basically anything goes, make it how you want!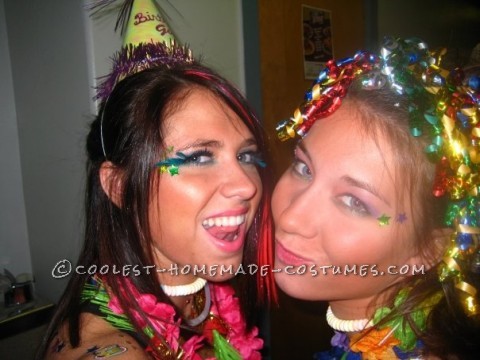 And then people understood. I wasn't sure what to be this year. I wanted to be something fun, look">