I created this "roll of film costume" from just looking at an original roll of film. My idea came from the job I had (I was working as a photo tech for Sams Club 1-Hour photo).
It actually took about a month to make because I didn't work on it every single day. I used 3 different color poster boards, 2 coat hangers (made into round shapes for the top and bottom), a black marker, black elastic to go over the shoulders to hold it up, and a little bit of white-out (which I used with a set of stencils to put the writing on there).
I used a child's "princess crown" for my head and put "Sams Club Photo" logo on it. I dressed all in black and wore my white gloves from work. I couldn't sit down or bend over all day, which everyone got a kick out of, but it was worth it just hearing my boss say she was "very impressed". She jokingly said she would have me go around the club, take pictures and pass out coupons for processing film.
Good Luck when you make your own Halloween costume!
Total Spent: $5-$10
Costume by Kimberly M., Oxford, NY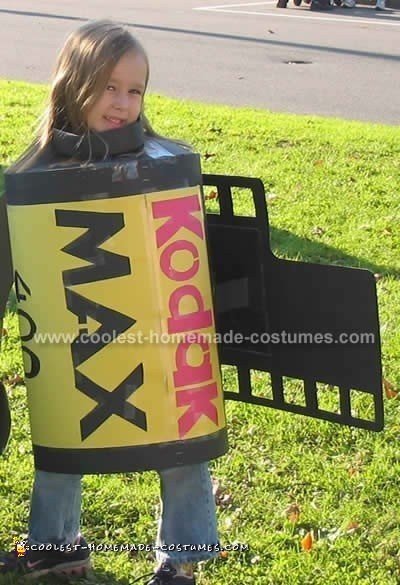 Every year in town we have a Halloween parade and costume contest. My daughter is convinced that store bought costumes do not win. So she goes around the house to find things that are different. Last year she wanted to be Kodak film. I made it out of poster board and tape. She won 1st prize!
Total Spent: $10