Home made Halloween costume idea for year olds are usually pretty limited and can be expensive. I wanted something that was original (not the same old pumpkin baby chili pepper baby etc.) and reasonable. I made this one up and it was a huge hit. You know it's a great costume when other kids' parents are taking pictures of your baby!
Rock Star Baby Ingredients: Cloth Mop Head and black dye to make the dreadlock wig, Skull cap or other light weight cap to sew the mop head onto (works best if it has a tie under the chin rather than just a slip on hat), an appropriate T-shirt. We already had the one he wore but you could always make a cute tie die shirt if you have the time.
Pants: Old Jeans and stuff to decorate them (we used jeans that fit him around but were too short.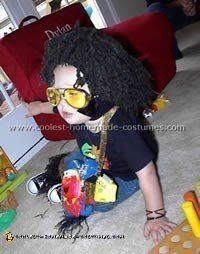 I hand-sewed animal print ribbon and feathers around the hem to "Rock them out". In retrospect it would have been cute to have used fabric paint and/or permanent markers to draw peace signs and things on the pants. Jewelry: I used faux leather tied loosely around his wrist and a large cross pendant of my own for his necklace. Shoes: He wore his black chuck tailors. And lastly some sort of toy instrument.
So I hand-sewed the white mop head to the skull cap and dyed the whole thing black like dreadlocks. Then I hand sewed stuff onto his old jeans to "Rock them out". He had an Elmo guitar already so I made a guitar strap for it with scrap fabric so that he could carry it across his shoulder easily. The rest was just accessorizing!
It was definitely one of the best homemade Halloween costume ideas at the baby Halloween party and we got a lot of positive feedback Halloween night! Good Luck!
Total Spent: $30
Home Made Halloween costume idea by Sheri B., Orem, UT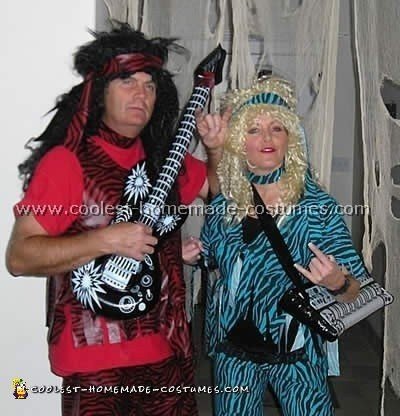 I was in Wal-Mart one day and I always go look at their $1 fabric. I happened to see some vinyl red and blue zebra fabric. I knew I had to have it for my homemade Halloween costume ideas and I came up with the idea that we would be rockers for Halloween.
I made the pants and shirts from copying some of our old clothes. I cut the ladies shirt in front and tied it with some of the fringes. The pants were similar to hospital scrubs with a drawstring waist. We used all the scraps to tie around our arms, legs and necks. I cut the material in lots of fringes and holes all around. Since it was a vinyl it didn't fray and I didn't have to hem anything.
Of course you can't be a rocker without long hair. I bought the wigs (the black one will double as Jack Sparrow this year). I don't invest too much in wigs because the cheap ones usually work fine for a few years and we like to have variety. It just depends on your preference. The inflatable keyboard and guitar came from a party supply store and completed the outfits.
These homemade Halloween costume ideas were so simple and they were a great hit at our party.
Total Spent: $25