Take a look at the coolest homemade Carmen Miranda costumes submitted to our annual Halloween Costume Contest. You'll also find loads of homemade costume ideas and DIY Halloween costume inspiration.
Costume by Terri G., Ligonier, IN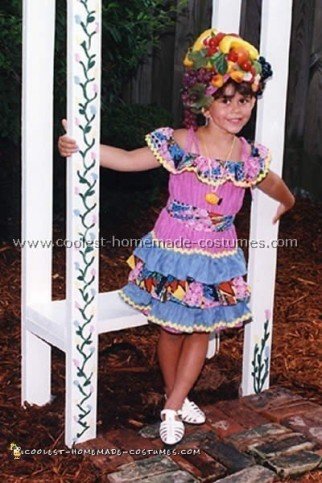 I made this Carmen Miranda costume for my daughter several years ago. A friend of mine was doing an "It's a Small World" float for our local parade. All of the children were to dress from a different country. After looking up costumes at our local library I decided on a Carmen Miranda look. I have been sewing since I was little and knew I could come up with something cute.
The main dress is a simple A-line tube type dress with shoulder ties. After the basic fitting of the dress I embellished it with ruffles of several colorful prints with Rick rack at the hems. The hat looks hard to make but really wasn't. I simply took a large rectangle of fabric and wrapped around my daughter's head (like a towel after you wash your hair). Once I had it in place I stitched it all together securely. To attach the fruit I covered my daughter's head with foil and a wash cloth and then put the hat back on her to maintain the shape. I then used a low temp glue gun to attach all of the fruit.
As you can see the outfit turned out great and the float won first place at the parade!
Total Spent: $30.00
Halloween costume by Jessica M., Crystal City, MO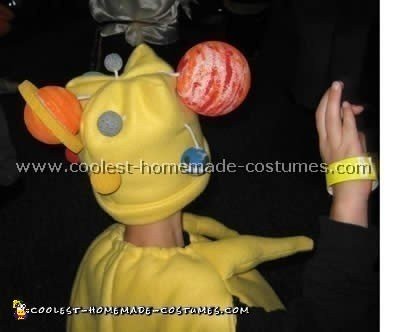 These kinds of Halloween costumes are really simple and easy to make. Once I gathered the materials it was under 30 minutes. The hardest part was finding a dress with fruit on it, but you could easily do your own with sewing patches or even fruit stickers.
Okay, so you know those plastic fruit candies that you used to eat when you were a kid with the fruity powder inside? Well, I got some of those and emptied them (I highly recommend you don't give that to your baby or toddler, at least indoors). Then, I sewed those plastic fruits to a sock cap using fishing line. I particularly liked the cap that tied under the chin.
I added a couple of plastic leaves that I stole from a flower arrangement in my dining room. For the ruffles on her sleeves, I went to my dollar store and bought 12 frilly multicolored hair scrunchies for 1 buck (make sure they aren't too tight).
I added a turtleneck shirt and tights because October nights in Missouri can get pretty chilly. The best part is that the dress is cute enough that she can wear it without the accessories on another day.