Become a Water Bottle with these cool Halloween costume ideas for kids submitted to our annual Halloween Costume Contest. You'll also find loads of homemade costume ideas and DIY Halloween costume inspiration.
Costume by Janet B., Auburn, CA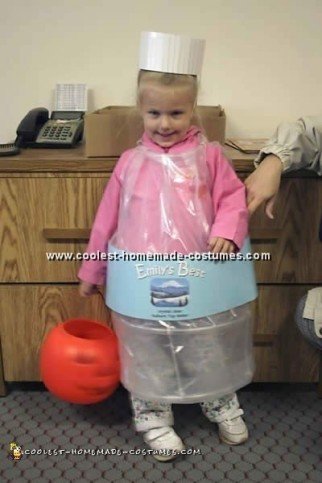 My 4-year-old daughter's 10-year-old friend was brainstorming Halloween costume ideas for kids with her in the back seat on a long drive. They were drinking from water bottles, so they idea came up.
I thought it through and realized that with some string, plastic tubing, plastic sheeting, and tape, I could make something that looked like a water bottle. A bit of graphic design created a label for her, and some cardboard with stripes on it made a bottle-cap hat.
It rained that year, and the best part was that she kept pretty dry inside the plastic. And, of course, she got a lot of attention!
Total Spent: $20