Take a look at the coolest homemade Clue Game characters group costume idea submitted to our annual Halloween Costume Contest. You'll also find loads of homemade costume ideas and DIY Halloween costume inspiration.
Costume by Leslie C., Mechanicsburg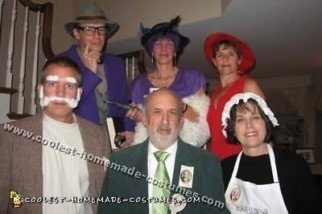 We had a group costume idea for the Clue game. We got the game card pieces from the game Clue (and pinned each card to our costumes). Most of the items we bought at thrift shops, Goodwill and the Salvation Army. Mrs. White wore a bonnet, apron and black dress. Mr. Green wore a green jacket with a green tie. Col Mustard wore a beige shirt tan jacket and glued cotton balls for eyebrows mustache and side burns. Miss Scarlet wore a red hat and a red dress. Professor Plum wore a purple jacket hat, nerd glasses and carried a pipe. Mrs. Peacock put a peacock in her hat and wore a purple dress.
We each carried one of the weapons – knife, rope, candlestick etc. Best part of the costumes is that we were comfortable walking around
Total Spent: $40