Take a look at the coolest homemade Mr. Six costume submitted to our annual Halloween Costume Contest. You'll also find loads of homemade costume ideas and DIY Halloween costume inspiration.
Costume by April B., Harlem, GA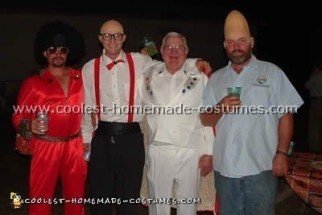 Here is Mr. Six, secon from the left. He's the old man that does that silly dance for all the Six Flags Commercial. This was a great hit at our Halloween party and one of many funny costumes. We purchased a bald cap from the Halloween store. Got a white button up shirt with black slacks that were a bit short, white socks, black shoes, old pair of glasses and red suspenders.
Total Spent: $20