Here's our cool Four Seasons costume idea. My girlfriends and I all wanted cute and original costumes for Halloween but we didn't want to break the bank at the same time so we decided a DIY project was the best route to go. We did a lot of researching for ideas and the one that kept sticking out the most was the four seasons.
So we went to the store and bought two rolls of duct tape each in the color that we thought best represented our season. Then, we went to Michael's and bought the foam stickers and leaves to stick on the tape. Also, for summer, we made a sun at the top of the dress and for fall, we made a tree to attach the leaves to. We don't really consider ourselves to be a crafty bunch so we were all really pleased with how they turned out! There's only one catch to these costumes, though, they have to be made the day of because there is no hope in saving them since they have to be cut off.
Another Cool Four Seasons Costume
Costume by by Christy P., (Spring Hill, TN)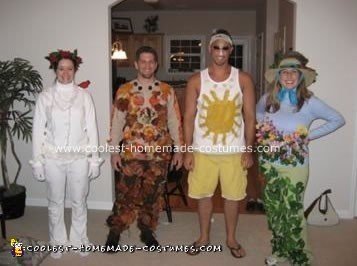 My husband and I along with my brother and sister-in-law went as the Four Seasons Costume. We basically bought everything at Kmart and Joann's.
For Spring: I bought the sweatsuit and really cheap hat that I glued a baby bird's nest (from Joann's) on the top of. I also hot glued a bird to the top of the nest. And, I placed a drained egg shell in the nest as well. I then hot glued flowers to my top and leaves to my bottoms.
For Fall: I hot glued real leaves all over my husband's suit along with fall décor. I would suggest using fake leaves for this, as the real ones crumbled and fell off during the party.
For Winter: My sister-in-law and I used cotton for snowy bundles hot glued on her suit. We used icicles around her neck. We hot glued a cardinal to her shoulder and made a really pretty head wreath as well. She also wore blue lip gloss and blue fingernail polish with glitter on her face.
For Summer: We think my brother looked more like a tourist than anything else. But, it was hard to think of things associated with the season itself. He wore summer apparel while we covered him in self tanner and a sunscreened nose. We painted a sun on his shirt and shells around the neckline.
Everyone loved this idea and we won Best Overall at the party!
Total cost for all four costumes: $80.00