I looked up some Elvis costume ideas online. I drew what I thought I could make for this Elvis costume. I went to a thrift store and yard sale and found a great woman's white polyester pants suit. It was a size 12 and it was sleeveless but I thought I could adapt.
First I put it on him wrong side out and began pinning around him to see how much it had to be cut down. I seamed up the pants and hemmed the bottoms. I left the waist open so I could figure out how to attach them later. I cut the slits in the bottoms of the legs and sewed triangles of red fabric in each leg. I took the elastic waist and zipper out of the back of the pants and reused them to create the front waist of the jumpsuit.
Next I turned the jacket inside out and pinned it around so it could be cut down to fit him. I found a cooking school jacket at a yard sale and used the sleeves out of it to sew sleeves into the sleeveless jacket. I sewed the top and pants together inserting the zipper in the front. Because I did not want chest showing I took part of the red thrift store dress and inserted a triangle of the embellished part into the jacket. I used hook and eyes to allow for opening when bathroom calls.
I used other segments of fabrics to create a belt which was Velcroed together. I measured the distance between his hands with arms spread to determine the width of the cape. I halved that distance and had my husband help me make a compass to do the accurate half circle (tie a string to something in the top middle of your material tie a string half the length of the above measurement to a pen on the other end and have the other person hold tight while the pen is used to make the half circle.
I used remnants from the red dress and some satin I found to create the cape. The Elvis costume came together once we began to embellish it. I found some Mardi gras beads that we cut up for detail on the cape and legs of suit. I drew an eagle on the back of the cape with glitter glue and made dots with it for my son and husband to put sequins and beads on. I found some star pins at a yard sale that I spray painted gold and used for belt decor as well as some gold chains for detail. I found some white boots and some sunglasses. We painted the sunglasses gold and glued fake black hair to make the sideburns. Finally we gelled his hair and used black hair spray to make the King!
Total Spent: $15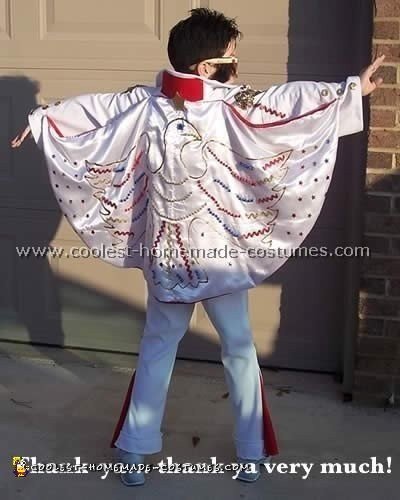 Costume by Michelle D., Nauvoo, AL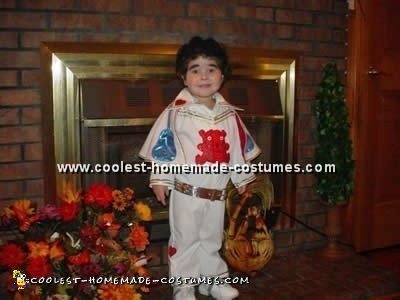 This is my son Donovan dressed as "Little E". My mother-in-law's friend made this Elvis costume and cape and found the belt at a thrift store. We put washable black dye in his already thick curly hair and tah-da….you have Elvis!
Total Spent: $20
Costume by Kimberly M., Glen Head, NY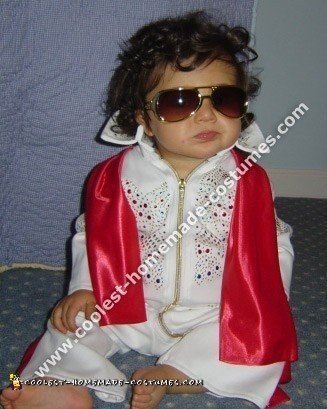 My son is only 8 months old in the picture, but he has so much hair that naturally he makes a great mini Elvis! Of course, when anyone gave him a Halloween treat we gave them a big "Thank you, thank you very much"! The costume is pretty cheap and easy to make.