My son wanted to be a road last year so I set out to search for easy to make Halloween costume ideas. We picked up a "gray" jogging suit for $10.00 and he picked out the "cars" needed. My hubby got out the yellow electric tape and I hot glued the cars and reflectors all around him.
He had on the back of him a Foam Stop Sign and carried a Traffic Cone.
Total Spent: $10
Costume by Susan M., Stockholm, NJ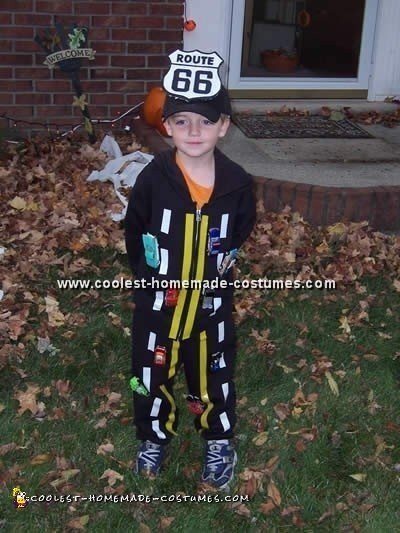 My son wanted a "CARS" (the animated movie) theme for his costume. I don't like to make commercial themed costumes, I prefer an easy to make Halloween costume. So we came up with the idea of using Route 66 as portrayed in the movie and working off of that idea.
We decided to make a highway. It couldn't have been easier or cheaper to make! We used an existing black sweat suit (zipper top for easy on/off) and toy cars from his existing collection. All we had to buy was a piece of foam board to make the sign which we Velcroed onto an existing black baseball cap. The Velcro we used to attach the cars and the signs and colored electrical tape for the lines in the road.
I decoupaged a paper cutout onto the foam board for the road sign which made it water resistant in case in rained and also gave it a more worn look like an actual road sign. One thing I wish I had done which didn't occur to me until we were out trick or treating was that I could have used reflective tape to make the road lines which would have provided built in trick to treating safety and possibly a more realistic appearance! This was such an easy to make Halloween costume.
Total Spent: $10