Take a look at these homemade Dragonball Z costume ideas submitted to our annual Halloween Costume Contest. You'll also find loads of homemade costume ideas and DIY Halloween costume inspiration.
Costume by Jennifer F., White Pine, TN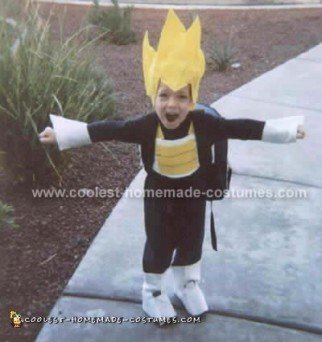 My son was VERY into Dragon Ball Z for more than one year, so I made this Dragonball Z costume for the first time in 2002, and then I perfected it in 2004. I used his action figures as my models.
I used a dark blue sweat suit that I picked up from Wal-Mart for about $6. I hot glued craft felt (9″x12″ pieces) to it to make the appearance of gloves, boots, and body armor. As for the lines on the armor, it just sharpie (but you could use puff paint if your child won't pick it off, like mine likes to).
The hair was a little tricky, I measured my sons head and made a beanie type hat to fit all around his hair. Then I cut the dark yellow felt into different diamond shapes and used hot glue to form the large pointy hair.
The second time I made the costume I also made shoe coverings out of white felt, elastic, and more hot glue to complete the look of the boots.
In total I used about 4 pieces of white felt and about 6 pieces of yellow felt. I included the cost of the hot glue in my total.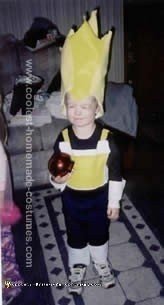 If I were to use this costume more than one time in the future I would sew the felt on, so it could be washed. My son wore the costume for pajamas for about three weeks until everything eventually fell off in the wash.
Total Spent: $10