My daughter has an extremely creative mind and thought up this one last Halloween. Since this is one of her favorite games she thought she could be the playing card herself!
I simple bought two white, thick poster boards and covered them with the appropriate color fabrics. I used a combination of felt and cotton material. Glue gun worked great and I simply copied the design from an original playing card. Two fabric straps were glue gunned on the inside of each card which was easy for her to take on and off.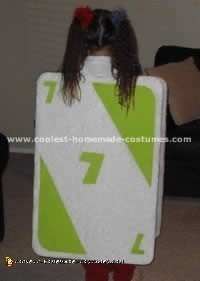 This is a very easy do it yourself costume, it was fun to make, easy to wear and was the hit of the party and trick or treating!
Total Spent: $15