My daughter Julie wanted to be Ember from Danny Phantom. She found her own outfit, a pair of sparkly pants from Limited Too that she had and a cute sparkle top to match. She also already had the boots. The guitar is real and one that my oldest daughter used years ago before moving on to better quality instruments. We painted the guitar to match Ember's. My oldest daughter did the face paint and I used colored hairspray to get the teal colored hair. The lone glove is also something my oldest daughter had so another freebie. I think we did a fine job and Ember for the Danny Phantom costume turned out much better than we had expected.
Total Spent: $25
Costume by Heather A., West Jordan, UT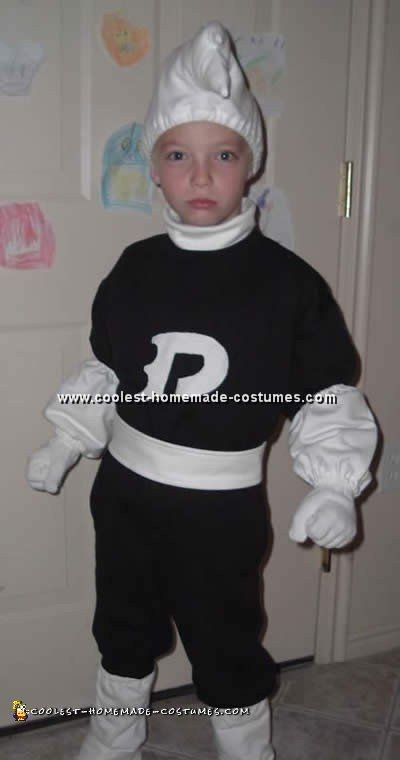 This is my friends little boy. He wanted to be Danny phantom.
I used black sweats for the outfit and white flannel for the arms, boots, belt, DP logo and hair. I had an old Gogo costume that had boots in it. I used that for the boot pattern. The arms I designed on my own and I used white cotton gloves. I used a photo of Danny Phantom to get the DP on the t-shirt and sewed it on by hand.
I copied and drew a picture of the hair. Stitched it up and stuffed it with cotton balls to keep it standing up in the front. He loved the costume. He was the only one to have a Danny phantom costume in his school.
Total Spent: $20