Take a look at the coolest homemade Samara from The Ring costumes submitted to our annual Halloween Costume Contest. You'll also find loads of homemade costume ideas and DIY Halloween costume inspiration.
Costume by Wendie L., Southington, OH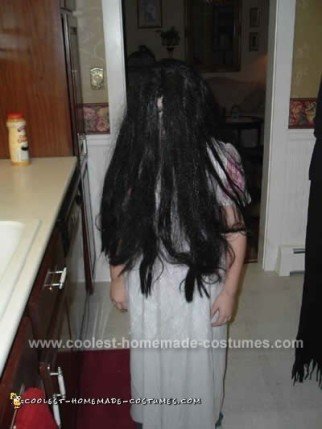 This costume idea came from the wearer, my daughter Julie. She absolutely loves the movie 'The Ring' and thinks 'Samara' is so scary. I tried to talk her out of it because people who have not seen the movie wouldn't know who she was supposed to be… my daughter was insistent.
I found the wig easily and it cost around $4. She needed a white dress hmmmm… I looked around and found a pre-made bride costume that ran around $11. Since you don't see Samara's face because her hair is in it no makeup was necessary. I just teased up the wig a bit to make it look like Samara's and fashioned it to hang in front of my Julie's face when she tilted her head down.
I was surprised so many people knew who she was. I guess a lot of people have seen the movie. She won 1st prize for scariest costume at two different parties.
Good luck with your own costume ideas!
Total Spent: $15