I started this Perry the Platypus Costume with the feet. I watched a few AWESOME tutorials from Canine Hybrid on YouTube on how to make feet, definitely worth the time to watch those first. It was very satisfying to get the feet done and fun to watch my son run around in! It was all the encouragement I needed to keep going for the gold.
I then took a pair of cheap pajama pants and sewed felt directly to them. It was just simply the easiest way to do it for me. I hate sewing elastic waistbands.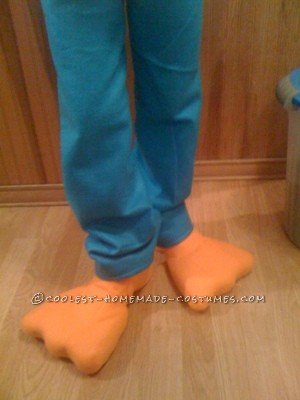 The feet
Creating the Tail
For the tail, I found an old boogie board from a family vacation a few years ago. I used an electric meat knife (that I purchased at a local thrift store) to cut it into a "tail" shape. I used shiny ribbon hot glued to it for the diamond pattern. We had a spare back support belt in our garage and that worked well to provide sturdy support for the boogie board. I think I put some thick metal fencing wire into the tail and back support to reinforce it and also so that the tail could be "positioned" into different shapes.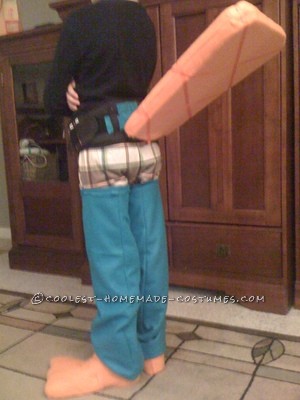 Creating the Tail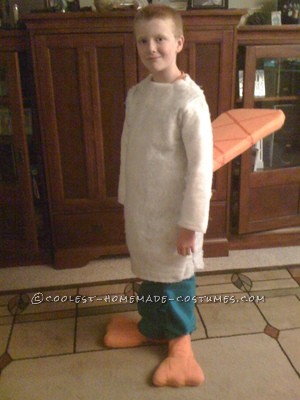 The Tail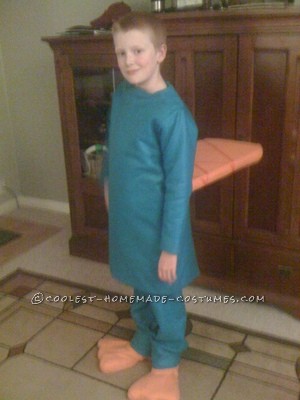 The Tail
Creating the Torso
For the torso, I found a women's sleep jersey at Walmart that had a flared bottom and surprising "Perry Shape". I hot glued 2 layers of quilt batting all over it to fatten it up, including the arms. Then I glued on the felt for his fur. A slit was cut for the tail. I used hidden button and elastic loop fasteners on the inside of this slit to pull the butt together after the tail was stuck through the slot. I made the fasteners with elastic cording and buttons. It worked pretty well and flexed when he bent over without popping open. I had to make a wider head opening as well, it seems to shrink somewhat with all the layering.
Gloves and Fedora
I think I went to about 10 stores to find the gloves in the right color. Walmart was my final destination and best success! I tried to make my own gloves and failed. It wasted a whole afternoon basically. Too difficult for little kid fingers. It was the best $1.99 I spent.
The fake fedora hat was purchased at a Halloween store. Not perfect, but OK. A real fedora was going to run over $35 (at least). I put hidden Velcro on the top of the head and inside of the hat brim to keep it on.
Creating the Head
The head was the hardest part and I saved it for last. I found a sports helmet at a Thrift Store and then I used craft foam from Joann fabrics and hand cut it with kitchen scissors. I really just made it up as I went. I can't explain how I did it. I used that plastic mesh stuff (I think they use it in crochet) for eye screens to see out. I colored it teal with a teal Sharpee Marker. You can't really see them which was the point. They are just to see out of. The head was mostly put together with hot glue. I sewed the felt for the bill and scalp. I think that I told you already that I used super thick white foam with black shiny puffy paint for the eyeballs. They Velcro on/off and are interchangeable with the "Pet Perry" wonky-shaped eyes. Canine Hybrid has other tutorials for making heads and that is where I learned how to use an elastic strap situation for the moveable jaw piece. I used 3 inch wide elastic for this and sewed it into place. It took several fittings with my son to get it right so that it wouldn't pucker. I padded the inside with felt for his comfort since the elastic was very itchy.
Well, I am sure that I am forgetting some big details….however that is it in a nutshell. My best advice is to watch Canine Hybrid's tutorials. She is a rockstar!