We attended the 2012 Mickey's Halloween Party that they have in September and October, and wanted to do something unique and Disney themed. We decided to do a Jellyfish Group Costume from Finding Nemo.  We got lots of attention, and even had people want to take their picture with us.
I found this site when looking for ideas on how to make a jellyfish costume, got lots of inspiration so tried a few things before the final design.  It was important that it be "hands free", since we'd be wandering around the theme park, and easily removable so we could ride the rides.  
I started with an umbrella hat; that idea failed.  The tentacles added too much weight and it was painful to wear.  I looked at large brimmed hats/sombreros, but I wanted the underside to already have a color.
Finally settled on foam board attached to a ball hat, with bubble wrap and shiny fabric on top – this worked much better.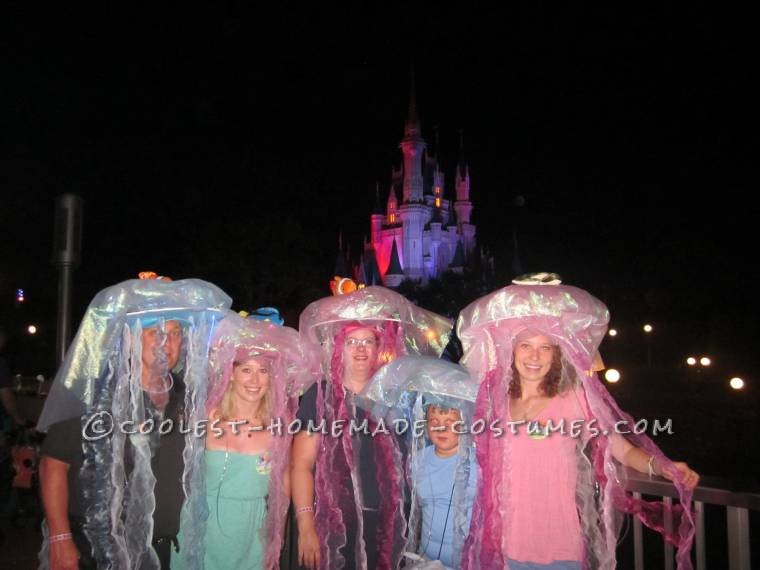 Don't get stung!
Making the Base:
I cut foam board (colored on one side) in a doughnut shape, and glue gunned a ball hat to each one – this was  bit of a pain, as the hats need to fit snug so the costume stays stable with all the stuff on it.  The cutout needed to match each persons head pretty closely, so it took some back and forth with the box knife to get a good fit.
Adding the Tentacles:
For the tentacles, I cut the center string off of 2-3 bath poufs per hat, which gives you a long tube of material.  Cut this into 3 long tubes of slightly different lengths. Then these were cut/ripped lengthwise to make 2 strips each.  One pouf makes 6 tentacles.  I attached these to the hats by one end through the hole and tying a knot on the top.  Glue gunning would probably also work.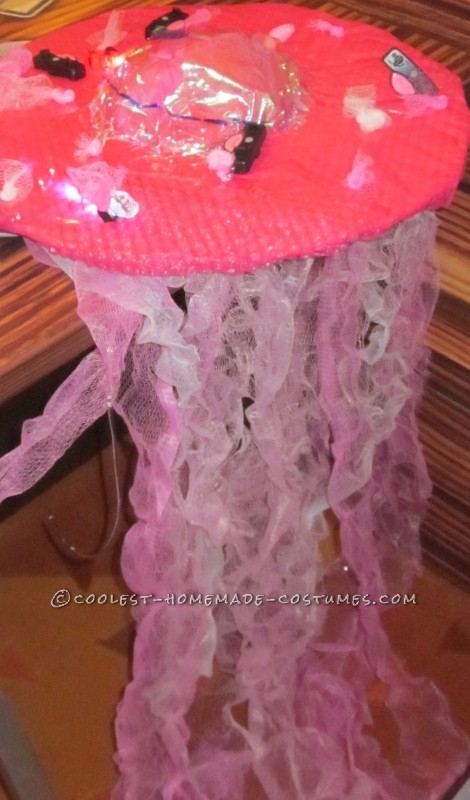 Making the top:
Then, I put bubble wrap, packing bubbles etc on the top side of the hat (just mish mashed together works fine), and some iridescent type wrap (I got the rolls of "opal" from the Michaels craft store, 2 rolls did all 5 costumes).  I found some great sheer and shiny fabric to put on top, though any sheer/mesh type would work.  I stapled the fabric to the boards, with lots of overhang.  The fabric was cut into approx 42" diameter circles.

Colored bubble wrap is not needed, I had some pink on hand from a package and used it for one of the pink ones, but once the irridecent stuff and fabric is on top you can't tell.

Lights and finishing touches:
Light up options:  these don't show up in the pictures much (if you look hard you can sort of see the blue ones). LED shoelaces make good light up tentacles (the light source/battery went under the bubble wrap, and made the top glow too – I poked the laces through random holes).  I used 2 pairs/hat (to make 4 tentacles for each).  The pink was very dim, don't bother with that color- the blue and green were much brighter.   I also added some fiber optic barrettes in matching colors above the bubble wrap, but below the fabric.

Lastly, I sewed/staples/taped small stuffed animals that looked like "Dory", "Marlin", "Nemo" and "Crush" to the tops.  "Bruce" was a bit big, so he got carried around.
Have Fun!
Had a blast wearing these for the Halloween Partly around Disney's Magic Kingdom! We had lots of people take our pictures, and even want to be in a picture with us.  After riding Space Mountain (with the hats stuffed not quite far enough into the car, with bits still escaping and flying all around us), the Cast Members (Disney employees) in the shop where you exit the ride gave us "Best costume" buttons to wear.