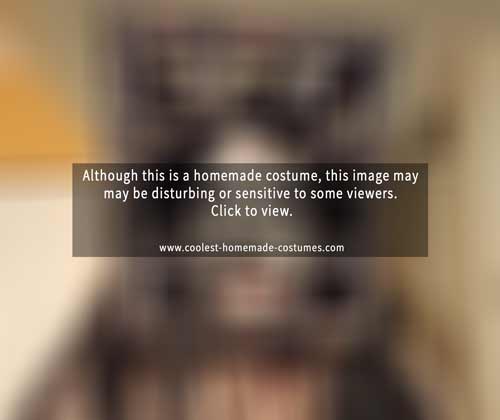 The frozen head in fridge costume started out as a water heater box. I cut it down the left side to make the "doors" then placed a piece of cardboard in the bottom of the "freezer" section that rested on my daughters head.
We spray-painted the entire thing white and placed bent cardboard on the freezer and fridge part to look like handles. I had my youngest daughter draw a picture for the front, and placed little foam letters on the doors to look like a little kid had been playing there.
We also put empty cereal boxes on the top with Velcro so they could be removed when the costume wasn't being worn.
After applying some grayish paint and a nice long makeup cut along my daughters neck, we teased her hair and in she went. I also placed an empty ice tray in the freezer with Velcro and an empty ice cream tub in to catch hold the candy since she didn't have arms available to her.
This costume got a lot of attention. People would make us wait on their porch so they could take a picture and we had cars stopping in the street to look and ask questions.
I still have the fridge in the basement, I couldn't bring myself to dispose of it.