This year I had a Homemade Barrel of Monkeys Costume for Halloween. I work with kids and thought that this would be a great costume for our Halloween party. This was one of the easiest costumes I have made, but everyone that saw it LOVED it! I used two "Keg Tubs" (12 Gallon rope handle buckets) and red duck tape. I cut the bottom of each tub out and I cut off the rope handles. Before taping the buckets I connected the two to each other using the holes from the rope handles and some nuts and bolts. I put one tub on top of the other and covered them with red duck tape.
After the entire "barrel" was covered in vertical strips of duck tape I put one horizontal strip around the middle of the barrel (where the two buckets sat on each other). I cut two slits in the front and two in the back and used a pair of old fireman suspenders to hold up the barrel. I attached the suspenders to the barrel with zip ties. I used a magic marker to write barrel of monkeys on each side of the barrel and then I drew three monkeys on a cardboard box and cut them out, painted them red, and hung/taped them to the barrel.
To top off the costume I wore all red and a sock monkey hat so that I was one of the monkeys in the barrel.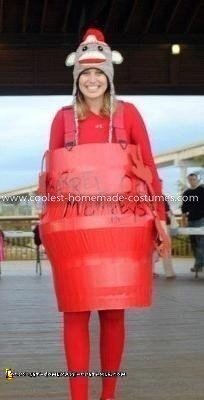 ---
Halloween Coupons and Discounts
Click here for 10% off your order at HalloweenCostumes.com (Expires Sep. 25, 2021)
Shop now with coupon HA18 for 18% Off Sitewide at Rolecosplay.com (Expires Sep. 30, 2021)
Shop with coupon SAS10 for 10% Off Sitewide at Gcosplay.com (Expires Dec. 28, 2021)
10% Off at PrivateIslandParty.com with with coupon 10CA
Essential Workers? Get 20% of at HalloweenCostumes.com (Expires Aug. 18, 2022)
---
---