Take a look at these cheap Halloween costumes and ideas for DIY Hot Drink themed costumes shared with us by costume enthusiasts from around the world. Along with the Hot Drink costumes here, you'll also find loads of homemade costume ideas and DIY Halloween costume inspiration for your next costume project. Enjoy!
---
Latest Hot Drink Costumes
---
---

---
Featured Hot Drink Costumes
---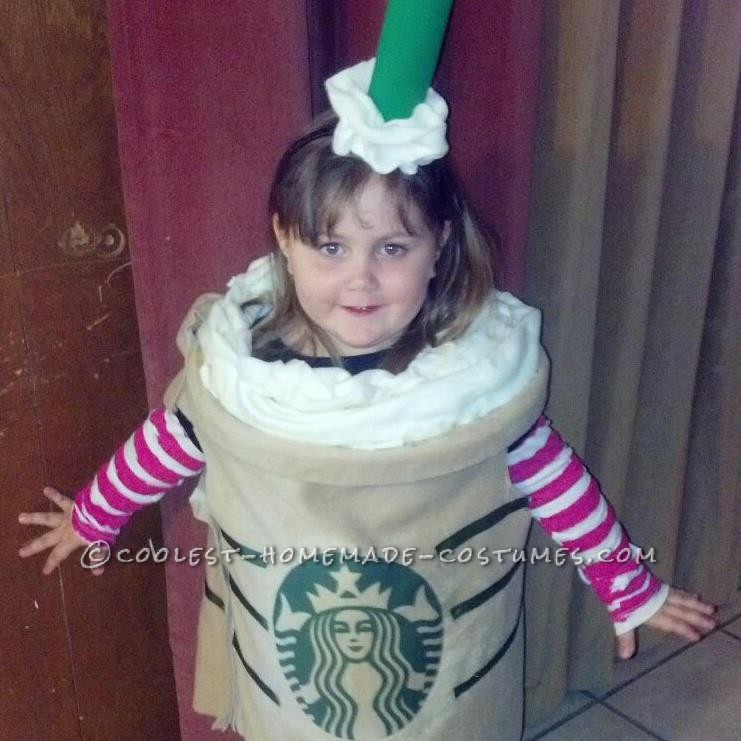 So my 4 year old decided he wanted to be coffee, coffee, really what the heck crazy kid. So after scouring the internet I found some ideas but none that I really liked, bought or wearable for a kid so I got to thinking. We went to Joann's fabric, bought some light brown fabric, some white fabric, hot glue, green foam paper, ribbon, an embroidery hoop, and printable iron on paper. Now how to make this a cute costume. With the materials sprawled out on the table, ugh what to do. So first I measured the light brown around the hoop and cut it to go around. Then found the middle of the material so I found a Starbucks log on the internet, printed it out. I cut out the design, ironed on, failed, the iron burnt through the material cause apparently with the felt you cant follow directions of the iron on paper, you need to keep iron moving. Read more »
---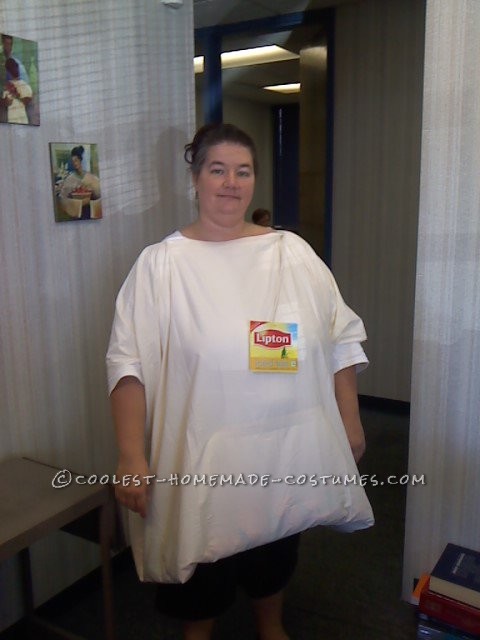 I used a twin size ivory colored sheet to make this homemade Lipton tea bag costume using wonder web to "sew" my seams together. I also took orange and brown felt, cutting them into 2 inch squares and stuffing the costume to mimic tea leaves. Read more »
---
More Hot Drink Costumes
I came up with this idea for cheap Halloween costumes a couple days before a Halloween party. It was perfect for me because all of my friends know how much I love Dunkin Donuts coffee. It turned out to be a hit at the party.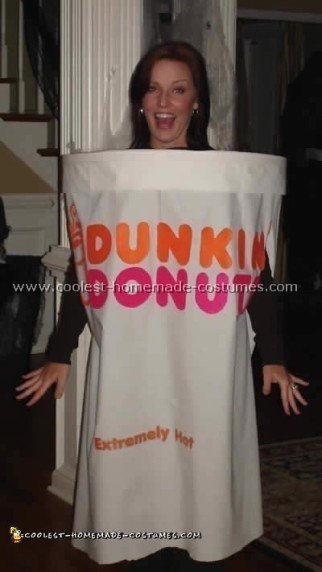 I created the costume with a quilting ring foam board, brown material, felt squares, a sheet and hot glue. For the top of the cup I used a quilting ring and that made it easy since all I had to do was cut the foam board and glue to the "inside" ring. I cut the hole for my head in the middle of foam board (used a bowl for circle pattern) and covered with brown fabric. Glue letters to fabric and drape the white sheet over outside quilting ring and insert the inside ring. Velcro closed in back. Hope this helps someone else!
Total Spent: $25 (created by Tammy W., Marietta, GA)
Cup of Cocoa Costume
Costume by Melinda B., Mascoutah, IL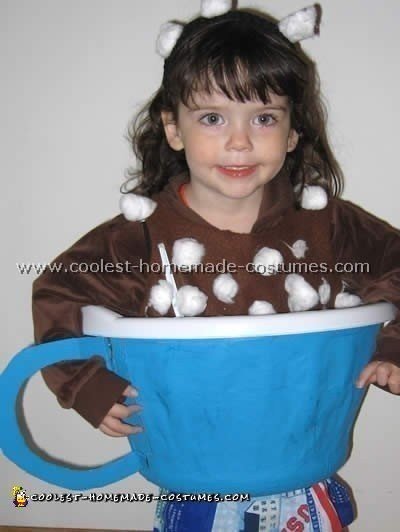 This costume turned out adorable. We were searching for cheap Halloween costumes when we came across this idea. So, we took a small laundry basket and cut it down so my daughter could walk. We then hot glued the top and bottom to shape it into a cup. I then paper-mached the outside of the basket to cover the holes. I cut out a handle and hot glued it to the cup.
Once it was dry I painted the cup blue. Next I cut a piece of brown material into a circle. I cut one side down the back and then cut a circle in the middle for her neck. Next I used Velcro circles and put them down the back where I cut the split and around the bottom of the material and the other side to the cup.
I hot glued cotton balls to the brown material. Then, I also glued cotton balls to a headband. I took a bandana and cut it in half. Then, I sewed the two pieces together and across the top to run a small piece of elastic through the top to make the skirt (table cloth). I added a pair of suspenders by attaching them to the inside of the cup,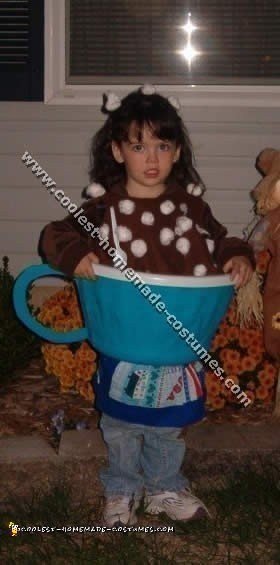 Total Spent: $15
Cute Swiss Miss Costume
Costume by Linnie M., Burlington, VT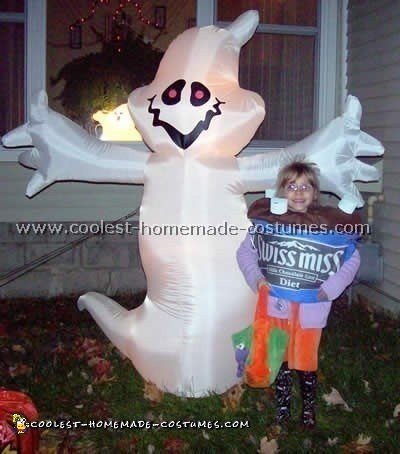 For this Swiss miss costume I got the idea right here! There are so many creative people here giving us ideas for cheap Halloween costumes. Although this is already on here I added a few things and it varies.
The items you will need for this are one laundry basket, a round one, can of any color spray paint, one can of white spray paint, two yards of brown fabric, hot glue gun, cardboard, one gentle grip Styrofoam standard for dried flowers, Poly fill stuffing, small bag, one hot cocoa packet, none pieces of construction paper.
Take your laundry basket and cut the bottom out. Spray paint it any color you want your "cup" to be. Then cut cardboard out in a circle the size of the top of the laundry basket then cut a hole for ones head. You can cut another out for the "saucer" but I ended up taking mine off. Take some fabric glue all around the top of one side then stuff it with poly fill then glue the other side.
Take the round Styrofoam and cut in half and spray paint white. Let dry overnight then hot glue them on the top of the cocoa. You can also use a "noodle" (the floatation device for summer) but I couldn't find one since it was out of season. Take construction paper, any color for the cup and tape or glue it all around so your basket isn't showing. Take a cocoa packet, copy and enlarge 200%, do this twice, cut and then tape on the basket. Very easy to make, I got so many compliments. Thanks for cheap Halloween costumes ideas!
Total Spent: $7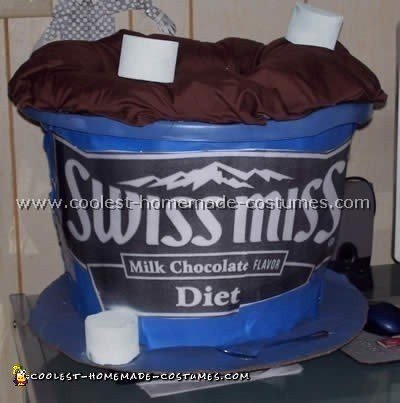 Cool Starbucks Coffee Costume
Costume by Celeste Y., Toronto, Ontario

The cup part is actually a garbage can wrapped in Bristol board and we had to blow up the logo so it came out a little fuzzy. We put some touch-ups with green and black markers and white-out.
The top is the top of the garbage can with a paper border to look like the top of a coffee cup. There's also a helmet under so I can buckle it so it won't fall off.
This is one of our cheap Halloween costumes that we made. We had no expense.
Awesome Swiss Miss Hot Chocolate Costume
Costume by Kimberly M., Oxford, NY
3rd Place Winner of our 2006 Costume Contest, Click Here to View Other Winners…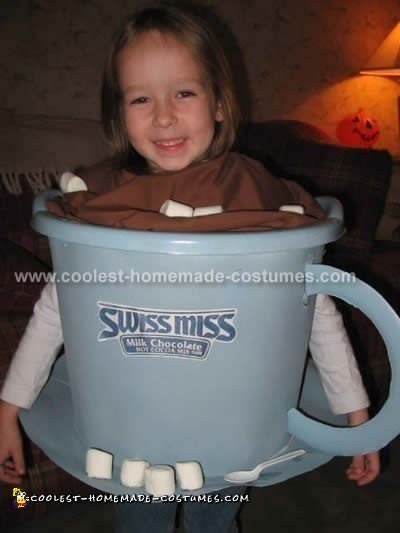 I used a small round laundry basket for this and covered it in poster board. I glued real marshmallows on it and added a spoon.
My daughter won 1st prize!
Total Spent: $15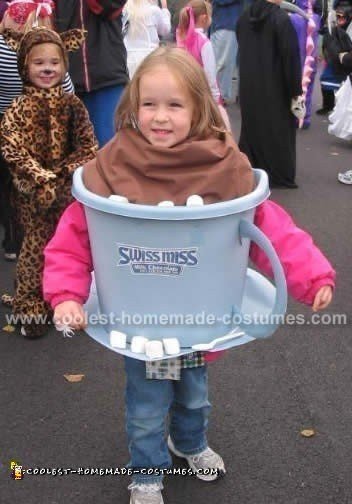 Cheap Halloween Costumes – A Tea Bag!
Cheap Halloween costume by Donna N., Magnolia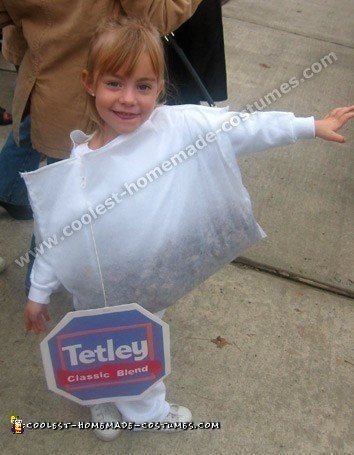 Not only does this costume fall into the cheap Halloween costumes category it also took about an hour to make!
Material needed: Interfacing (light weight, inexpensive but with a little bit of stiffness), fall leaves, thread, heavy cotton string, a piece of poster board or construction paper, and markers (to color a tag).
Directions: (NOTE: All seams refer to a 1/2″ seam allowance). Measure across the shoulders of the person who will be wearing the costume (this will be measurement A).
Then measure from the neckline area to the crotch area (this will be Measurement B).
For a "flow through tea bag" You will need to make two tea pouches, one for the front and one for the back (double measurement B).
Cut the interfacing (measurement A by two times measurement B). Fold the interfacing in half so that Measurement A meets Measurement A. Stitch from the folded edge up both sides. Don't turn inside out. Stuff the pouch loosely with fall leaves. Stitch the top closed. Repeat for both pouches.
Attach heavy string to the top of both bags for shoulder straps. Attach another piece of string from the back of a shoulder strap to come around and hang in the front.
Design a tea bag tag. Attach it to the end of the hanging string. Creative suggestions: If your family is in to herbal teas, create their favorite tag and use colored leaves. Use your favorite brand of tea to create your tea tag. It came out to be a great costume. It's really nice to make cheap Halloween costumes.
Total Spent: $10