I can really only claim the bottom portion of this costume and head piece as a "home made" costume. The top is from a lingerie store. I wanted a luxurious look that would turn heads but still have some class. I wanted a cheap Halloween costume but in the end it wasn't so cheap at all! Total Spent: $150
Cheap Halloween costume by Cristeena C., Muncie, IN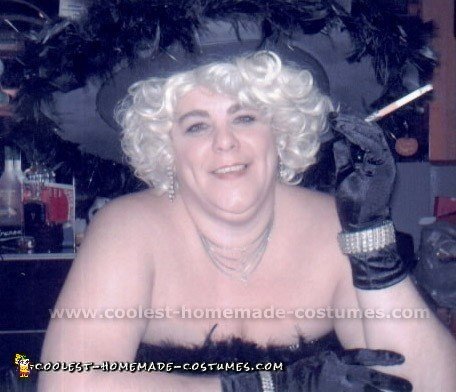 Good plus size costumes are hard to find. When you do find them, they are hideous and over priced. I am a plus size female bartender and we like to have the somewhat sexy costumes too! I have always wanted to be Mae West, a large Mae West, hmm… for some reason I just thought I could pull it off.
I started by looking through my closet, and there it was, a horrible black and white leopard dress that I knew I would never wear; that's a start. Off to Walmart, where I bought some black taffeta, 3 yards at $1 a yard, 4 yards of white netting at 57 cents a yard, and some elastic that I paid $1 for.
I cut the straps off the top, folded the material over, sewed it, threaded elastic, sewed that, and tacked a black boa on. I then cut the bottom of the dress off, gathered taffeta and netting, sewed it on, and that's how I made the sexy dress.
I then took an old hat, cut a circle from cardboard and another in center, hot glued the cardboard circle to the hat, and spray-painted it black. Then I glued 2 boas on it to achieve a beautiful hat.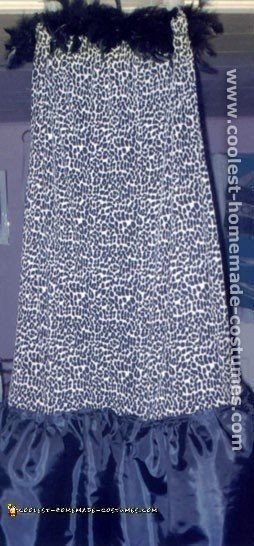 I borrowed vintage jewelry and gloves. I had a leftover Halloween wig, which I used for hair. I also got boas at Hobby Lobby- 3 for $12. I had a sexy cheap Halloween costume, a little time, but nothing difficult, and all for around $25. It looked much better than any I had looked at to buy and I had fun making it. Everyone in the bar that night was snapping my photo, I truly felt like a star!
Total Spent: $25