Spooky/Gory/Dark Costumes
700+ Horrifyingly DIY Scary Halloween Costumes
For you, Halloween is not the time for adorable costumes or sweet dress-ups. No, you are out to seriously frighten young children and adults alike. To that end, we present this section of scary Halloween costumes. Creepy, horrifying and even revolting, these costumes are not for the faint of heart.
A natural choice for those motivated by mutilation is, of course, a zombie costume. Zombies of all shapes and sizes stagger over these pages. It is extremely impressive at how creative people become when figuring out just how hair-raising to configure their death-like characters.
In addition, you will also find plenty of mummies and monsters glaring at you. Also featured are skulls, ghosts, Frankensteins and creepy dolls. Even more costumes include an exploded face which is still giving us nightmares. Still more are electric chair optical illusions and a one eyed monster that makes us shudder.
If you were freaked out from the TV show, you will absolutely want to dress as American Horror Story characters. It is incredible what well-applied make-up can do to transform your appearance into something truly grotesque.
Here, no one is immune to the gore. Even Tooth Fairies take a shocking and terrifying turn in these scary Halloween costumes. So, get ready. Your frightening frock is only a click away!
Spooky, Gory and Dark Costume Sub-Categories
Latest DIY Spooky, Gory and Dark Costumes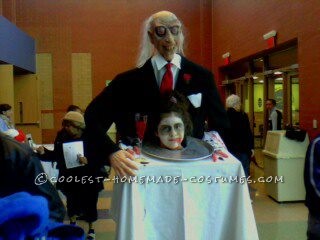 My name is Melissa and my daughter Olivia is 10yrs old. I have been making home made costumes for 3 yrs and it is very rewarding not just the prizes but just to see the look on peoples faces. It is priceless! I started with a backpack, just an old backpack and unzipped it. Stuck … Read more