Here's our Cabbage Patch kid costume. I have 3 kids, 2 boys and finally a little girl who was born on August 16th 2006. I never had a baby doll growing up so now I finally have my little girl doll.
This is her first Halloween so I decided to make her a Cabbage patch kid. I did a ton of research on-line looking up CPK (cabbage patch kids). I tried to find pictures and look for any ideas but had no luck. I wanted to buy a box but my husband said the baby is only 9 weeks old and doesn't need a baby doll. I decided to make my own cabbage patch kid.
I took a box and slit it down the side so I could open it all the way. I made a slit going horizontal on the back side so I could slide the handle bar from the stroller through the slit.
I spray painted the box which cost me $1.97. I printed out several different CPK characters and glued them around the bottom of the box, on the sides and back.
I glued the cpk cabbage and also wrote on the top, sides and front. I drew the tree and ground and ribbon picture on the back and glued the characters on. I then glued the rows of patches.
I took an old pillow case and cut it along one side and top then safety pinned it to the stroller in several spots. I cut a couple of slits for the safety harness to come through.
I wrapped the box around the stroller, starting at the back pulling the handle bar through and then wrapped it all the way around. I taped it down where needed.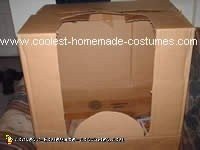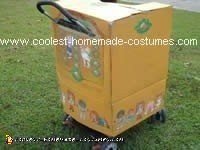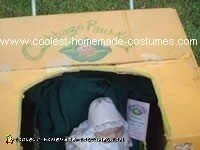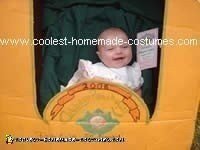 Final step: you pick out a cute outfit and put the baby in the stroller. Now I have my own special Cabbage Patch Kid.
Total Spent: $2