This was the best Halloween costume I have made. You will need for the Cave Man Family: Animal Print Fabric, plastic bones (variety of sizes 3), Plastic Bone Jewelry (necklaces bracelets), some sort of clothing for underneath your animal print shift (shorts and T-shirts leggings or tights- whatever you have in the closet that works!), optional: Old wigs and black face paint (to make face look dirty), ingenuity- be creative! And don't be afraid to mess up; it's a pretty fault-free costume. I don't know how to sew using a pattern but I do have a sewing machine! I keep intending to take lessons but time is an issue. So… for this costume I needed something fast and easy for a last minute party that the whole family was invited to.
I bought the fabric on sale; it was a large scrap at Beverly's Fabrics. I wrapped the fabric around all of us pinning it at the shoulder and along the sides. I sewed it at the shoulder and sides and then cut the hem in a jagged fashion.
I bought plastic bones as accessories and hand sewed them along the top edge of each outfit as decor and tied them into my wig and my son's hair. I even made a little costume for our small dog with the scraps but didn't get a picture!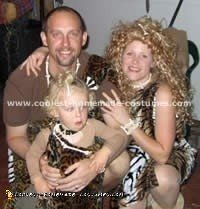 Bone and Tooth necklaces and bracelets were inexpensive accessories as well. I also used fabric scraps to cover an old pair of hard bottomed slippers that my two year old had almost outgrown and hand sewed a couple of plastic bones on top of them. I wore my warm Sherpa boots and tights.
My husband wore a brown T-shirt and shorts and our son wore nude tights and a nude body suit. We borrowed a rattle for our son (think "Bam Bam's Club" but a bit more original) made out of wood and bones from our son's preschool for him to carry (you could make one yourself with a thick stick and maybe pig's feet dog bones from the pet store or something equivalent).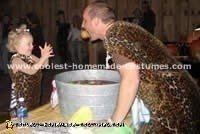 And I made a little loop on the side of his costume out of scrap fabric to hold the rattle when he wasn't shaking it. These were easy to make and fun to wear. If you're not a great seamstress mistakes on this sort of a costume are really not a big deal and are virtually unrecognizable (unless you sew closed an arm hole or something).
We were a hit at the party with our best Halloween costume and got so many compliments Trick-or-Treating! Good luck!
Total Spent on this best Halloween costume: $60.