Costume by Lhia J., Longview, WA
I'm a huge fan of the video game Populous The Beginning. After completing the last level I watched the movie trailer and had an idea! I headed off for the drug store and found a dusty gold R2D2 mask sitting on the back of the shelf. It was perfect! Next I found three feather dusters, yellow, green and blue. Great colors! Again perfect for what I needed!
I then stopped at a clothing store to buy a blue bathing suit, blue tights and a package of thick leather shoelaces. When I returned home I mixed a batch of paper mache and began to form the face. I hot glued the feathers into place layer by layer. Then I painted the mask with the pattern of the Queen. Next I painted with textile paints the design on the suit to match the game's icon. I cut the leather laces to size for my armbands and anklets.
In a thrift store I found an old pool cue and created my staff of power! A little paint and cardboard and an old cat toy was all that was needed! Finally I needed some jewelry! I made lion's teeth out of foam pellets and some masking tape and made a moon necklace out of a coconut shell fragment! But every good shaman needs a medicine bag…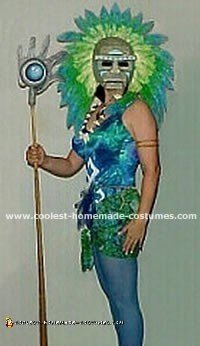 I found a blue scarf and tied it with the last piece of the leather lace. Inside I tucked a real wild boar tusk and 20 blue feathers.
And off I went! During the party I would ask people to join my tribe and if they said yes I would hand them a blue feather.
Total Spent: $27